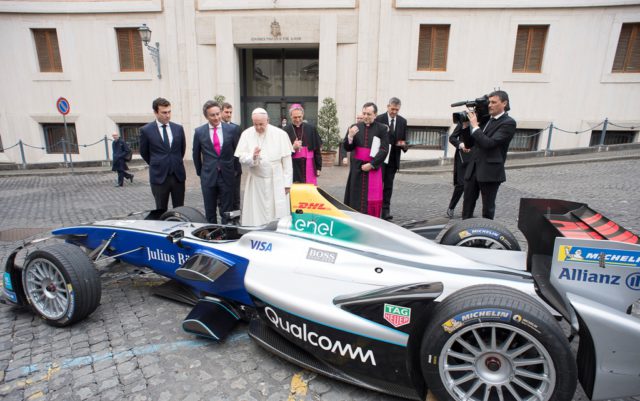 His Holiness Pope Francis welcomed a selection of Formula E drivers to his residence in Santa Marta. The event happened ahead of the Rome E-Prix on April 14 – the first-ever on the streets of the Eternal City as well as the first European round.
Among the guests were founder & CEO of Formula E Alejandro Agag as well as ACI President Angelo Sticchi Damiani. Together they, the drivers, team representatives and the official championship car were given a private Apostolic Blessing before attending the papal audience.
Over half the grid and the fully-electric Formula E car made the short trip to Vatican City. The inaugural race in the Italian capital will take place on Saturday. It is round seven of the 2017/18 ABB FIA Formula E Championship.
His Holiness Pope Francis welcomed a selection of Formula E drivers to his residence in Santa Marta
Our drivers just met with Pope Francis this morning ! What an amazing experience before #RomeEprix, thank you for your time. pic.twitter.com/cblWARDZ7A

— RENAULT e.dams (@RENAULTedams) April 11, 2018
This morning the Pope blessed all the Formula E drivers racing in #Rome #ePrix. Such a unforgettable experience. Thanks @FIAFormulaE .

— LUCAS DI GRASSI (@LucasdiGrassi) April 11, 2018
Asia, Africa, South and Middle America and now Europe: On its world tour, Formula E will stop in Rome for the first time. A race of 33 laps is to be covered by the drivers on the 2.860-kilometer city circuit that leads right through the "Esposizione Universale di Roma (EUR)" world fair district and along the spectacular "La Nuvola" convention centre. It is the seventh race of a total of twelve this season.
"Italy is like a second home for me. My grandparents were born there. I have an Italian passport and plenty of Italian blood running in my veins," says the reigning champion, Lucas di Grassi. "The track looks incredibly challenging: fast sections, slow sections, several overtaking opportunities. The fans are going to experience a real Formula E highlight."
In the drivers' standings, Jean-Eric Vergne is leading with 109 points while Techeetah is first among the teams with 127. The track for the Rome E-Prix is the second longest this season after Marrakesh.
"It is great to be starting the European leg of the championship in such an iconic city, and one with such passionate motorsport fans. From what we've learned from our simulation sessions, it will be a difficult track for the drivers, with high-speed corners, so we can expect plenty of battles", DS Performance Director Xavier Mestelan Pinon added.