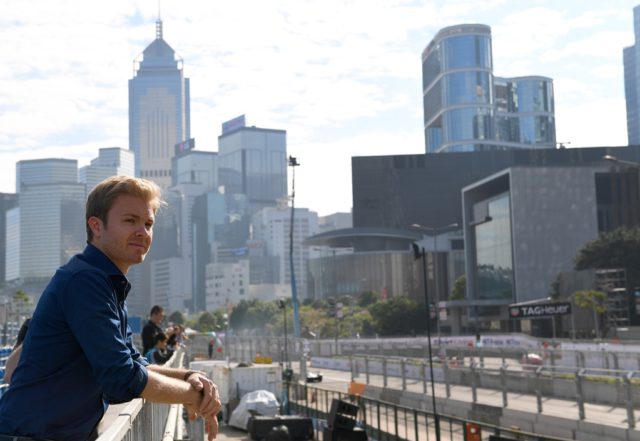 Nico Rosberg will treat fans of the ABB FIA Formula E Championship at the Berlin ePrix to the first public demonstration of the Gen2 car. He will get behind the wheel of the striking new model for next season. Rosberg will also disclose his long-term commitment to the series as an investor.
The German star and 2016 Formula 1 champion is set to make a one-off appearance ahead of the race. The demonstration will be at Tempelhof Airport on May 19. The next generation Formula E car hit the headlines at the Geneva Motor Show last month. It is scheduled to make its competitive debut in season five.
Rosberg will take to the track during a dedicated 10-minute slot prior to the fourth edition of the Berlin ePrix. The race will be round nine of the ABB FIA Formula E Championship.
In addition to shaking down the new car, Rosberg has re-affirmed his position as a keen supporter of e-mobility and the electric street racing series. He confirmed he's already a long-term investor and shareholder in Formula E.
The Gen2 car not only boasts a futuristic new-look for Formula E. It also shows a clear jump in performance over a race distance and almost double the energy storage capacity.
Alejandro Agag, Founder & CEO of Formula E, said:
"It's a very special moment to see a new car running for the first time in public. And it requires an equally special name to have that honour. To see a name like Rosberg taking the wheel of the Gen2 car in front of the German fans in Berlin is a great moment for the series. He's such an incredible ambassador for world motorsport and a champion – so it's also another fantastic endorsement for the ABB FIA Formula E Championship to have Nico as an investor and shareholder of Formula E."
Nico Rosberg said:
"I'm really excited to get behind the wheel of the Gen2 car. It will be great to experience this high-performance e-mobility car and let's see if I still have it in me! It makes it even more special that I'm able to do this at the Berlin ePrix, as I've always loved racing in my home country – Germany. Since my retirement, I've become very interested in the e-mobility movement and its potential to positively impact our society and our planet. I've therefore also long believed in the potential of Formula E and came on board as an investor some time ago."
It's the first time fans will be able to see the Gen2 car run on track in the flesh.
Great news that @nico_rosberg will drive the Gen2 car and has become an investor in @FIAFormulaE. See you at our home race in Berlin Nico! #ABBFormulaE #FormulaE #BerlinEPrix #etron #ProgressFeelsElectric #LeagueofPerformance pic.twitter.com/383gA9Sl3j

— Audi Formula E (@audiformulae) April 10, 2018