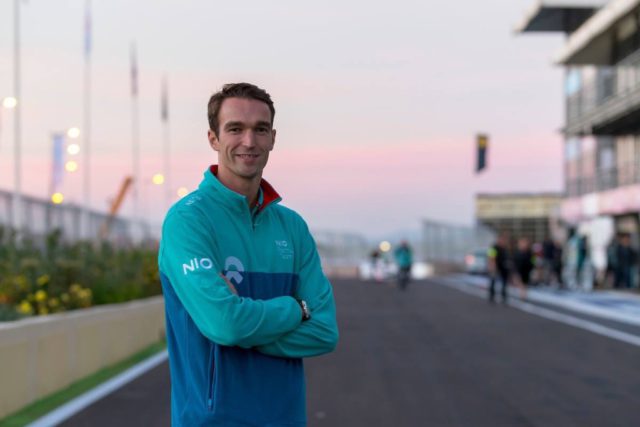 Harry Tincknell has joined the NIO Formula E Team in the role of DIL (Driver In the Loop) Simulation Development Driver. 26-year-old Harry participated in the first ever FIA Formula E Rookie Test in January 2018. He has also previously participated in a private test at the Calafat Circuit, Spain, in 2017.
Street circuits have unique nature. There's limited track time for drivers both in terms of generic track testing and practice sessions at race events. Thus teams invest a significant proportion of their resources into developing Driver In The Loop Simulators. The aim is to aide driver preparation.
The NIO Formula E Team has operated a basic DIL Simulator at its base near Oxford since Season 2. Under the responsibility of the team's recently formed Vehicle Performance Group, the DIL Simulator facility will be continually developed. It has to ensure that it meets the team's specific needs and requirements as a fully immersive and realistic driver training tool.
Harry Tincknell says:
"I'm really delighted to extend my relationship with NIO driving the simulator this year. I immediately felt at home with the team during pre-season testing and the rookie test in Marrakech, so to be working closely to help develop the car while at the same time gaining more experience with the unique techniques required to be fast in Formula E is the perfect scenario for me. It's fantastic to see the team scoring strong results on track this season and I'm really grateful that everything came together to make this deal happen alongside my existing Sportscar commitments."
Gérry Hughes, NIO Formula E Team Principal, adds:
"It gives me great to pleasure to welcome Harry to the NIO Formula E Team in the capacity of Driver In The Loop (DIL) Simulator Development Driver. Whilst we have worked with Harry for some time now, this has always been very much on an ad hoc basis, whereas this arrangement gives our working relationship real structure as we continue to develop as an organisation. I wish Harry all of the best in his new role here at NIO and certainly, our race drivers will be eager to witness the fruits of his labour in terms of the role that he will undertake in the overall DIL Sim Development Programme."
Captune this one then guys..! #Prologue #WEC @FordPerformance pic.twitter.com/N3QsAprNTK

— Harry Tincknell (@HarryTincknell) April 6, 2018