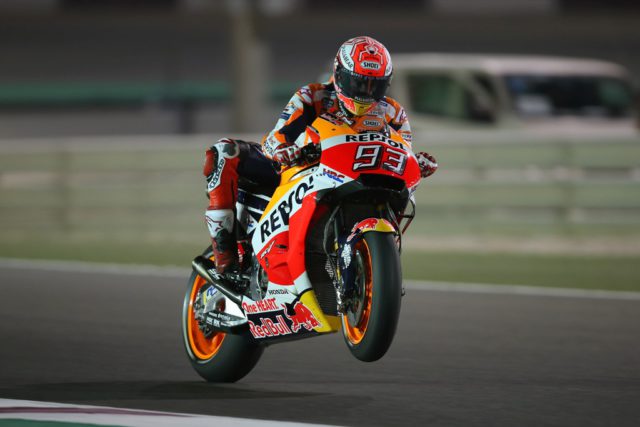 After scoring a strong podium finish in Qatar with Marc Marquez and completing a positive one-day private test in Jerez de la Frontera on 26 March, the Repsol Honda Team is heading to Argentina for the second round of the 2018 MotoGP racing season.
Built in 2007 and 2008, the Termas de Rio Hondo Circuit joined the MotoGP calendar in 2014. Since then, the Repsol Honda Team have achieved two double-podium finishes, in 2014 and 2016, but suffered a double DNF in 2017 when Marc and Dani crashed out of the race while fighting for podium finishes.
Marc Marquez has 2 wins in Argentina (MotoGP: 2014, 2016) and 4 Poles (MotoGP: 2014, 2015, 2016, 2017)
"We started the season with a great race and a close podium finish in Qatar, and we had a positive test in Jerez last week. I feel good at the moment, happy with my bike and with how my team is working, but we're just at the beginning of what will surely be a tough season. We must wait and see how it goes at different circuits, starting with Termas this Sunday", Marquez commented.
"I like the Argentinian track and I enjoy the atmosphere with the fans, who are always very passionate and supportive, but we must not lower our guard. After the excitement of the first race, it's now time to be calm, concentrate, and work hard to try and be faster. I think this Championship is very open, with many strong rivals that can fight for the victory on Sunday. At the moment everything seems very equal, and during the season we'll see who is able to improve and to consistently stay at the front."
Recién aterrizados en Buenos Aires!
Just landed in Buenos Aires!#argentina #interwiew #MM93 pic.twitter.com/bZ25Mp5H6d

— Marc Márquez (@marcmarquez93) April 3, 2018
Dani Pedrosa has 2 podiums in Argentina (MotoGP: 2nd in 2014, 3rd in 2016)
"I look forward to going to Argentina to resume working with my team and prepare for Sunday's race. In Qatar we didn't get the result we were expecting and were capable of achieving, but we know the potential is there, which gives us confidence. In Argentina, we'll keep working with this positive attitude. The track conditions at Termas may be challenging at the start of the weekend but they'll be the same for everyone, and they usually improve over the weekend. We'll work on our bike to be ready for whatever conditions we have for the race, and then we'll give 100 percent when the lights go off", Pedrosa said.