The Bahrain Grand prix is the second round of the 2018 Formula 1 world championship.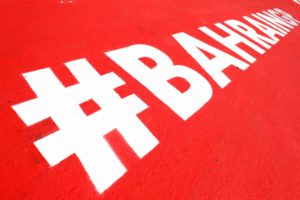 Total number of race laps 57
Complete race distance 308.238 kilometres (191.53 miles)
Pit lane speed limit 80 kph (50 mph)
Flips, crashes, and teammate clashes ⚔️

The #BahrainGP sure loves to put on a spectacular show! pic.twitter.com/RBlwOgMorq

— Formula 1 (@F1) April 3, 2018
This 5.412-kilometer (3.363-mile), 15-turn Bahrain International Circuit has hosted Formula One since 2004
Last year's Bahrain Grand Prix served as the venue's 13th grand prix. (The 2011 race was cancelled.)
Pedro de la Rosa holds the race lap record at Bahrain (1:31.447), set in 2005 with McLaren.
Valtteri Bottas holds the qualifying lap record at Bahrain (1:28.769), set last year with Mercedes in Q3.
The Bahrain International Circuit is a purpose-built Formula One facility
Debuting in 2004, Bahrain was the first grand prix to be held in the Middle East. The circuit is known for massive run-off areas, with substantial track width across its layout. This encourages overtaking but has been criticized for not punishing drivers who make mistakes and stray off course. Since the track is located in the middle of the desert, sand can pose a problem – to the level of grip on the racetrack and to the performance of the car, with the engine's air filters checked thoroughly and often. The race takes place near dusk and finishes under the lights, with the temperature swing from the heat of day to the cool of night adding another variable to a car's setup and adjustability.
DYK? Although alcoholic beverages are legal in Bahrain, drivers do not spray the traditional champagne on the podium. Instead, race organizers provide drivers with Waard, a non-alcoholic drink made from rosewater and pomegranate.
During the course of the Bahrain Grand Prix, lows will range from 22-23 degrees Celsius (72-73 degrees Fahrenheit) to highs of 30-31 degrees Celsius (87-88 degrees Fahrenheit). Relative humidity ranges from 35 percent (comfortable) to 82 percent (humid), with a dewpoint varying from 11 degrees Celsius/51 degrees Fahrenheit (very comfortable) to 21 degrees Celsius/70 degrees Fahrenheit (muggy). The dew point is rarely below 5 degrees Celsius/41 degrees Fahrenheit (dry) or above 24 degrees Celsius/75 degrees Fahrenheit (muggy). Typical wind speeds vary from 5-27 kph/3-17 mph (light air to moderate breeze), rarely exceeding 42 kph/26 mph (strong breeze).
The Bahrain Grand prix is the second round of the 2018 Formula 1 world championship
Tyre choice White Medium, yellow Soft, red Supersoft
Toughest corner Turn 10, a downhill left-hander taken in second gear (85km/h/53mph). The cars are simultaneously turning left and braking, which makes it easy to lock the unloaded inside front wheel. The drivers need to drive in a progressive and controlled fashion because the second DRS zone follows and a good exit is vital
Unique difficulty Temperatures. In 2014 the time of the race was switched from day to night, from 14:00hrs to 18:00hrs. The race starts seven minutes after sunset, meaning the track and ambient temperatures drop as the race progresses. That alters the balance of the cars and affects tyre wear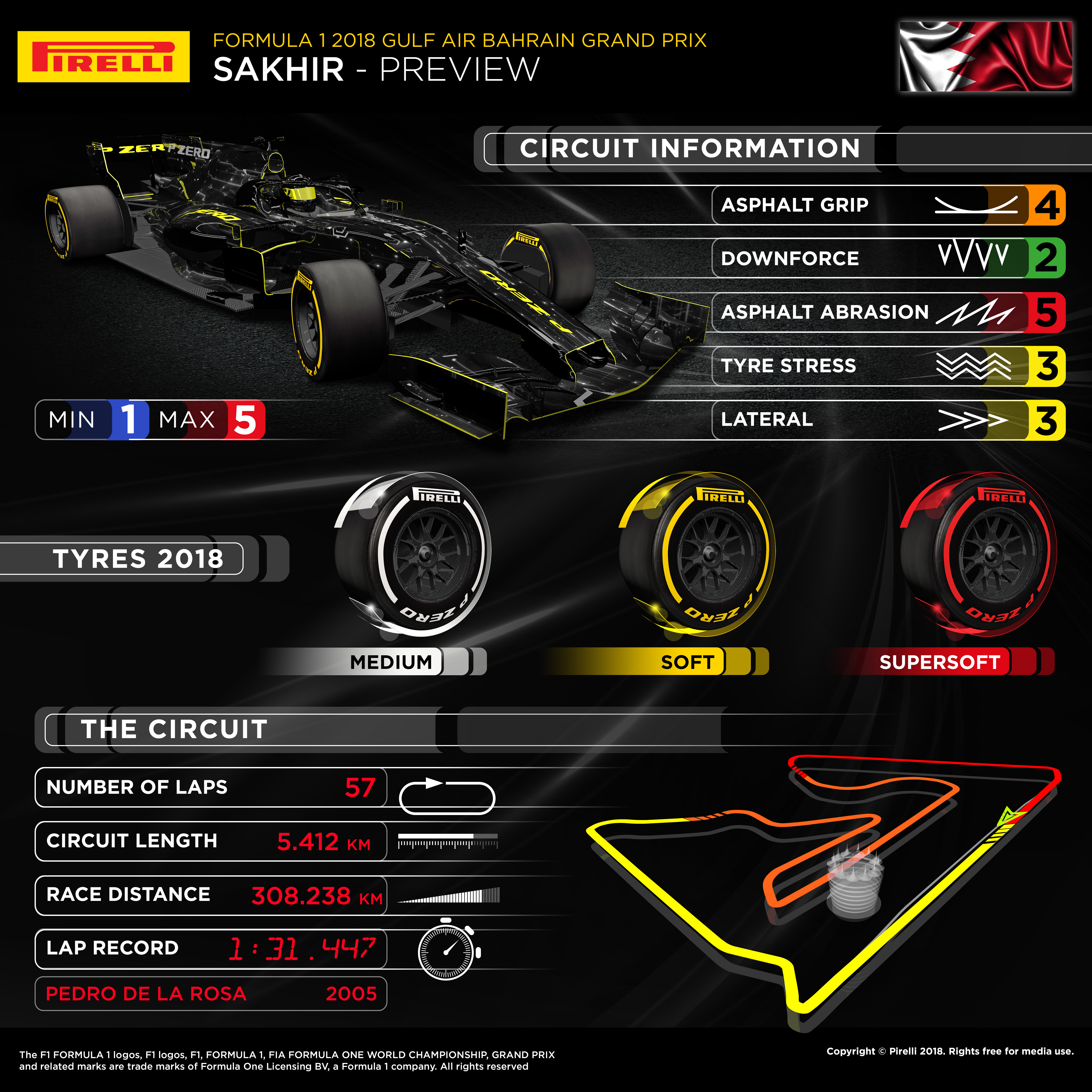 Biggest headache The Bahrain International Circuit is the only track on the calendar that's located in a desert. It's windy and sand from the surrounding wilderness gets blown onto the track surface, which affects grip levels and forces the teams to attach filters onto the brake and engine inlets
Brakes There are eight significant braking zones, the toughest of which are into Turns One and 14. It's also the first hot race of the year and the combination of high ambient temperatures and heavier cars (734kg) means brakes will need to be monitored closely during the race
Pole-to-win conversions at the #BahrainGP ??

Schumacher (2004)
Alonso (2005)
Massa (2007) ?
Vettel (2012)
Hamilton (2015)#F1FastFact pic.twitter.com/6la4BLQ0Pd

— Formula 1 (@F1) April 3, 2018
Power The cars use 1.8kg of fuel per lap, which is high
Without a Safety Car period, it will be difficult for the cars to make the end of the race without some degree of fuel saving. Fuel consumption is negatively affected by the large number of acceleration zones from low speed
Aero To maximise end-of-straight speeds, the cars run in a medium downforce configuration. The aero balance is slightly different to elsewhere on the calendar because the cars are set-up to understeer in an effort to protect the rear tyres
Fastest ever race lap at the #BahrainGP? ⏱️

That would be @PedrodelaRosa1, whilst standing in for Montoya in 2005

He clocked a 1:31.447 on the way to a fifth-place finish ?#F1 pic.twitter.com/3L5mJUhYot

— Formula 1 (@F1) April 2, 2018