Phil Mills will be Elfyn Evans' co-driver for the Tour de Corse, fourth round of the World Rally Championship (WRC). The reason is that Daniel Barritt needs more time for recovery after the crew's sixth-gear roll during Rally Mexico.
2003 WRC champion (with Petter Solberg) Mills has stepped in to ensure Barritt makes a full recovery. He knows his fellow Welshman's pacenotes inside out as he has been a part of Evans' gravel crew for the past five years. With 13 rally wins to his name, Phil Mills certainly has the experience and the paring are keen to hit the ground running.
The Welshmen will have their work cut out – perfecting a new partnership on one of the most challenging events of the year whilst also overcoming the disadvantage of a later road position – but that won't stop them giving their all in search of a strong result.
Second at the Tour de Corse in 2015, Evans also won the WRC 2 category in 2016. Now his focus is on bringing more silverware back home to Wales.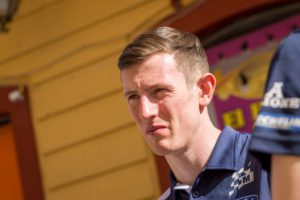 "This is an event that I really enjoy, and we'll be looking to maximise that. The speed is there, but I've not had the best start to the year and that's something I'm determined to put right in Corsica", Evans said.
"It won't be easy without Dan, but his fitness comes first and it's important that he has the time to make a full recovery for the rest of the season. Phil has stepped in, and I hope that we can push for a good result."
"Phil certainly knows his stuff. Other than Dan, he knows my pacenotes better than anyone and he's certainly no stranger when it comes to winning rallies."
Phil Mills will be Elfyn Evans' co-driver for the Tour de Corse, fourth round of the World Rally Championship
"This year's route has a lot of new sections, but it's still a technical challenge which is one of the things I really enjoy here. There's quite a lot of variation amongst the stages – some are surprisingly smooth, but then there are those which are typically Corsican with abrasive Tarmac that twists through the mountains."
"It's all about adapting to the conditions. We'll have a fairly late running order which won't be ideal, and we'll need some time to get used to one another in the car as well. We'll just have to see how it goes and do the best we can. I've had some good results here in the past, and I'm keen to see what we can do this year."
Another day of work on the @CorsicaLinea – #TourdeCorse! The Service Park is almost ready to host the fans and the teams! It's gonna be great ?
More backstages on Snapchat ? tourdecorsewrc pic.twitter.com/98SUTmpKK6

— Tour de Corse (@TourdeCorseWRC) March 31, 2018