Defending Champion Lucas di Grassi took second and in doing so claimed his first podium finish of the season at the sixth round of the electric racing series Formula E in Punta del Este (Uruguay).
The Brazilian from the Audi Sport ABT Schaeffler squad produced an impressive performance around the fastest track of the season. In the morning's free practice di Grassi was faster than the rest of the field by more the four-tenths of a second at the wheel of his Audi e-tron FE04. The Audi driver also set the fastest lap in the 'Super Pole'. However, it was not di Grassi who started the race from pole position, but in fact the initially fifth-placed Jean-Eric Vergne in the Techeetah.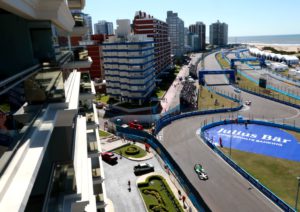 "In my opinion, it wasn't correct to delete the times of the fastest drivers because we all touched a bollard in the chicane," said di Grassi. "I understood it differently in the drivers' briefing and it was handled differently beforehand in free practice and in qualifying. Instead of starting from pole position I had to start from second place on the dirty side of the grid – and this on a track where overtaking is extremely difficult."
Di Grassi staged a spectacular fight throughout the entire race with championship leader Jean-Eric Vergne
However, every attempt at overtaking made by the Brazilian remained unsuccessful.
"First of all, congratulations to Jean-Eric and Sam [Bird]. For Jean-Eric on the win, but for Sam to come from ninth on the grid. It was a really tough race for me, and to be honest, JEV didn't make many mistakes, I tried very hard – and I had the fastest car. Starting second, on the dirty side, I tried very hard at the end to overtake him. I'm very satisfied with the car that I have but we could've got 20 points and we only got 18", Di Grassi said.
.@LucasdiGrassi after his first podium of the season #ABBFormulaE #FormulaE #PuntaDelEsteEPrix #etron #ProgressFeelsElectric #LeagueofPerformance pic.twitter.com/26ioL2QvTH

— Audi Formula E (@audiformulae) March 17, 2018
"We know that in Formula E, when you get the chance you have to grab it. JEV defended very well so there was a very little margin for me to attack, I think he did a small mistake coming into the last sector – we ended up touching a little bit and got super close. I tried my best, the car was super competitive – that won't be the last time the team will fight for victories."
Podium selfie! Myself Generic Vergne and Some Bird – top 3 in Punta del Este #eprix @fiaformulaE pic.twitter.com/xfAiXMzVrk

— LUCAS DI GRASSI (@LucasdiGrassi) March 18, 2018
His teammate Daniel Abt was exceptionally unlucky
The Mexico City winner fought his way from fifth on the grid to third in the first half of the race. After swapping cars, he had to pit for a second time because the seatbelts came undone. "We have to find out how this happened," said Daniel Abt, who crossed the line in 14th place. "The seat belts were closed, but after two laps they were suddenly open."
"Daniel's problem with the belts cost us a double podium and was a huge disappointment for him," said Team Principal Allan McNish. "It's positive that we got both cars to the finish and that Lucas took his first podium of the season after having scored his first points in Mexico. His fight with Jean-Eric Vergne for the lead was incredibly intense and exciting from the first to the last lap. On one occasion I thought now Lucas is through, but JEV drove a strong race as well."
"It was a close, hard fight between the two," added Head of Audi Motorsport Dieter Gass. "Unfortunately there was no way to get by Jean-Eric Vergne, even though Lucas tried often. He needed the fan boost that Daniel had. Even though more was possible, we can be satisfied with the performance this weekend. The reliability was also there. We look forward positively to the rest of the season."
.@Daniel_Abt explains what happened in today's race #ABBFormulaE #FormulaE #PuntaDelEsteEPrix #etron #ProgressFeelsElectric #LeagueofPerformance pic.twitter.com/sfIlvQKS6i

— Audi Formula E (@audiformulae) March 17, 2018
It was a thrilling @FIAFormulaE race in picturesque Punta del Este! @LucasdiGrassi finished runner-up after a great fight. Check out our race highlights. @audiformulae #ABBFormulaE #FormulaE #PuntaDelEsteEPrix #etron #ProgressFeelsElectric #LeagueofPerformance pic.twitter.com/uIFBiBmZJk

— Audi Sport (@audisport) March 18, 2018