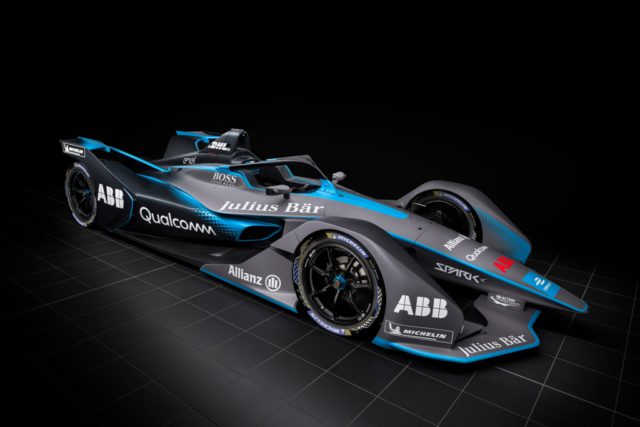 The physical model of the next generation Formula E car was revealed today on the FIA stand at the Geneva Motor Show, ushering in a new era for the ABB FIA Formula E Championship.
The covers were taken off the FIA Formula E Gen2 car by FIA President Jean Todt and Founder & CEO of Formula E Alejandro Agag, using a robot arm supplied by title partner ABB.
Technical specifications of the Gen2 car have also been disclosed. The new car for the 2018/19 season proves the progress and enhancements made in terms of both performance and efficiency since the inaugural E-Prix only four years ago.
Other than the striking new-look for Formula E, the most notable change comes underneath the bodywork with the battery. The car will have a double range. There will no longer be the need for a mid-race car change.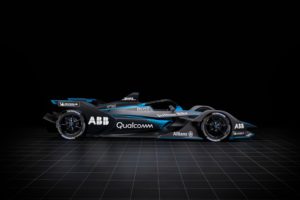 The maximum power output of the car has increased to 250kW. That is an increase of 50kW that will see the potential top speed of Formula E reach 280 km/h (174 mph).
Integrated as part of the chassis is the new Halo head protection device. It has an innovative strip of LED lighting. The lighting system concept will enable fans to better follow the strategy of their favourite team or driver. It would indicate things such as different power modes and other race information. More details will be available ahead of the start of season five.
The Gen2 car also features the new Michelin Pilot Sport all-weather tyre. It has a specific design for the unique demands of electric street racing. The tyre is lighter than its predecessors. But it also boasts significantly lower rolling resistance and a new graphic design.
The new model will compete over the coming three seasons, starting with season five in late 2018.
FIA President, Jean Todt, said:
"The FIA Formula E Gen2 really looks like a car of the future. It's encouraging to see the progress made in just four years – to double the range of the car and increase the power output is the result of a great effort. With the support of so many manufacturers, Formula E will continue to push the development of electric vehicle technology, and promote sustainable mobility in many cities around the world."
FIA Technical Director, Gilles Simon, said:
"It's fantastic to finally show people the FIA Formula E Gen2. It has been a hugely collaborative project. And I would like to thank everyone at the FIA, and all of our technical partners and official suppliers for their tireless work to make this car a reality. The result has been a car that everyone is talking about and that achieves all the technical goals we set. Formula E is a fascinating mission from a technical perspective. It gives us the opportunity to create something completely different to anything else in motorsport, and developing innovative technologies at the forefront of the electric revolution that is happening in the automotive industry is really exciting. To make something faster with double the efficiency was a great challenge. And I think it's going to be very spectacular when it takes to the track in season five."
Alejandro Agag, Founder & CEO of Formula E, said:
"This is the first time I've seen the complete car in the flesh and it's even more sleek and spectacular up close. If you were to draw a racing car from scratch and base it purely on its looks, you'd come up with just this design. Not only is it striking on the eye, the performance and range show clear progress in terms of technological development in only four years. I'd like to express my personal thanks to the FIA and its President Jean Todt, for their hard work and support in putting together and designing our Gen2 car. This model visually differentiates Formula E from any other single-seater in motorsport today. When people see this car they will say it's Formula E, it's the future."
If racing was a game, consider it changed…the new FIA Formula E Gen2 car has arrived! ⚡️⚡️#ABBFormulaE #GIMS2018 pic.twitter.com/0HbnnMkvCd

— ABB Formula E (@FIAFormulaE) March 6, 2018