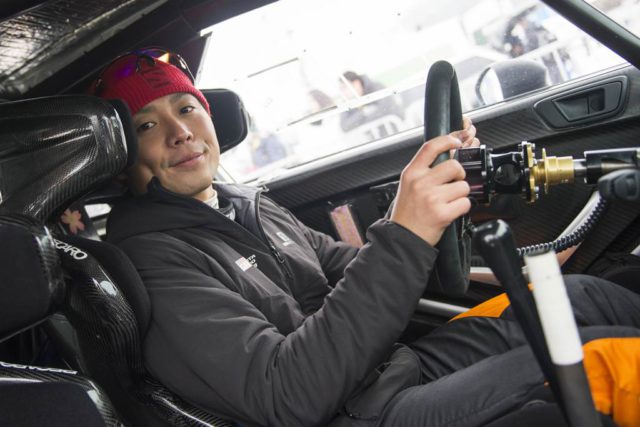 For a car-making nation of such world-leading repute, Japan's record in the World Rally Championship could be better. Takamoto Katsuta wants to change all that. The 24-year-old is part of Toyota Gazoo Racing's Challenge Program and, at last week's Rally Sweden, he rocked rallying's establishment to its core with a maiden WRC2 win.
Katsuta is being tutored towards destination WRC alongside official Toyota Gazoo Racing drivers Jari-Matti Latvala, Ott Tanak and Esapekka Lappi. His debut in a Yaris WRC might just have got that bit closer in central Sweden last week.
Takamoto Katsuta ("Taka" to save time) was always destined for life on the stages
His father Norihiko Katsuta won his eighth Japanese Rally Championship title last year. Before that, his grandfather competed as well – and remains a driving force behind the sport in Japan today.
Katsuta started competing aged 12, racing karts at home in Japan. At 18 he won the Formula Challenge Japan title (a slicks and wings, single-seater series for young Japanese racers) and graduated to Formula 3 with the TOM'S team. He finished second two years later but had already thinking about the switch to rallying.
During his final year of F3, Takamoto Katsuta stepped aboard a Toyota GT86 rally car and won his class at the Rally Highland Masters. He'd heard about Toyota's driver development programme and set his sights firmly on it. Taka was signed to the programme by Tommi Makinen in 2015, driving alongside another son of another famous Japanese rally driver: Hiroki Arai, whose father Toshi has 86 World Rally Championship starts to his name, twice finishing fourth with the official Subaru World Rally Team.
Despite driving for Toyota, Katsuta actually competes in a Ford in the World Rally Championship
Toyota, for now, doesn't make an R5 car, which is why Taka's in a Fiesta. Rally Sweden was only Katsuta's seventh start at rallying's highest level, his previous best result being third in WRC2 in Italy last year. While the gap to Pontus Tidemand was just 4.5 seconds after 315 flat-chat kilometres through the frozen forests, Katsuta led for all but one of the 19 Swedish stages last week.
Takamoto Katsuta moved from Japan a couple of years ago and now lives in Jyväskylä, home of Rally Finland – which is much more convenient for the Toyota Gazoo Racing factory which is just north of the city in Puuppola.
Rally Sweden was actually Taka's seventh start in the snow. He's been competing on selected rounds of the Finnish Rally Championship for the last two years, which includes several winter events. Prior to last weekend, he finished third overall on the last month's fabled Arctic Rally – an event which runs out of Rovaniemi, the official home of Joulupukki, Santa Claus.
Katsuta will tackle all remaining European WRC rounds, except for Rally Germany
In addition to that, he will expand his experience of asphalt driving on selected Italian events.
What about a possible Taka Yaris WRC debut?
"The plan is for a possible Rally Japan entry in 2019, that would be most natural if it happens. But maybe it could be earlier. Let's see…", Tommi Makinen says.
And what about Rally Japan? The WRC hasn't visited Japan since 2010 (when it was based on the northern-most island of Hokkaido), but there's hope of a return to the WRC calendar with a rally based closer to Tokyo as soon as possible.
The only Japanese ever to win a WRC round is Kenjiro Shinozuka, who drove a Mitsubishi Galant VR-4 to back-to-back Ivory Coast victories, with Briton John Meadows co-driving, in 1991 and 1992.
Amazing! We won WRC2 class at Rally Sweden!! We pushed very hard all stages. Thank you so much team guys and all my fans and my family!
ラリースウェーデン!
WRC2クラス!勝ちました!!
応援ありがとうございました!
皆さんの応援のお陰で最後まで気持ちを強く持てました!
感謝です! pic.twitter.com/ZT4JuKq0Dk

— Takamoto Katsuta (@TakamotoKatsuta) February 18, 2018