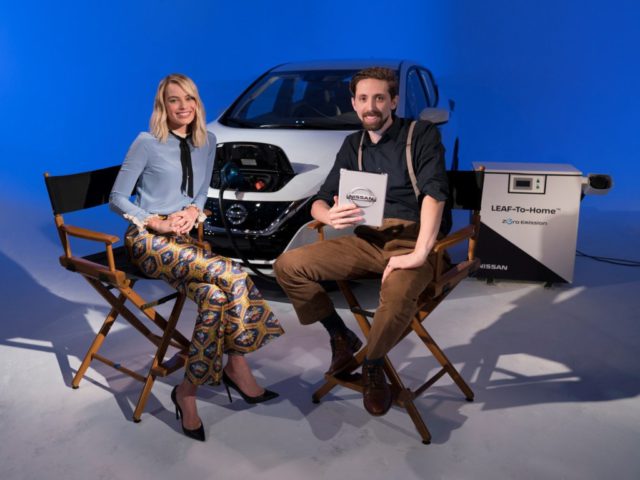 Nissan Electric Vehicle ambassador, Margot Robbie, revealed during her first ever Facebook livestream that the company will premiere its new Formula E electric concept livery at the Geneva Motor Show (March 6th).
In another first, the cameras, lights and equipment used to broadcast the live appearance had power from the new LEAF battery.
The automotive manufacturer announced last October that it will enter the fast-growing Formula E series in the 2018/2019 season. The all-electric series gives the brand a highly visible global platform. From it the company can spread the message of Nissan Intelligent Mobility.
Last October, Margot announced the Nissan Electric Ecosystem which aims to transform the way you drive and live, and most recently, she announced three new Nissan sustainability pilot projects at Futures 3.0 in Oslo. The pilot projects aim is to improve energy access and disaster relief.
Margot Robbie revealed that Nissan will premiere its new Formula E electric concept livery in Geneva
"The world is going electric and technology is getting smarter", Margot Robbie said. "Even the cameras today were powered using the LEAF – something I never thought a car would be able to do. It's crazy in a way. But it's another simple demonstration of how we can change the way we drive and live to create a cleaner and more sustainable world for everyone."
Award-winning Margot Robbie is a world-famous Australian actress and producer. She recently received a nomination for best 'Actress in a Leading Role' in the 2018 Academy Awards for her role as Tonya Harding in "I, Tonya" (2017).
The all-new LEAF offers a significant update over the previous model
It has a dynamic new styling and advanced technologies. The car is also with a higher capacity drivetrain which delivers significant increases in both range and power.
The 2018 LEAF is also the first Nissan model in Europe to feature Nissan's autonomous ProPILOT technology. It also has e-Pedal, which allows drivers to start, accelerate, decelerate and stop. And that happens simply by increasing or decreasing the pressure applied to the accelerator.
Customer deliveries of New Leaf will commence progressively across Europe from early February 2018.
Charge ahead with the All-New Nissan LEAF. #SimplyAmazing #NissanCAS18 #CAS18 pic.twitter.com/pg1SVtHVkv

— Nissan Electric (@NissanElectric) February 8, 2018