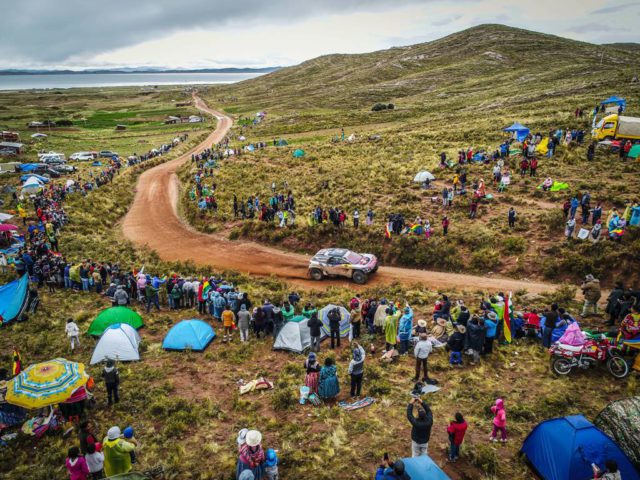 What a difference a day makes. In Thursday's Stage 6, the Dakar competitors left Peru for Bolivia, travelling from Arequipa to La Paz and replacing sand dunes with fast tracks high on the Bolivian plateau. A 313km stage shortened for the bikes, with a new factor coming into play: altitude.
Today will see teams and athletes use the rest day in La Paz to check the machines and rest the men.
Car
The Thursday stage was a challenge for the cars with a 4,722m-high passage to overcome.
Stéphane Peterhansel started first following his Wednesday's feat, but it's his Team Peugeot Total teammate Carlos Sainz who ruled the day and took the win four minutes ahead of him and five minutes ahead of Toyota's Nasser Al-Attiyah.
"From the start of the rally we've been off-piste in the sand and that's not my favoured sort of terrain", Sainz said. "So even if there were a lot of straights and it wasn't so exciting it's nice to have a change… Five days of sand is too much. There's still a lot of racing left, with stages that are 400 or 500 kilometres long, as well as the marathon stage, so anything can happen."
.@CSainz_oficial ? & @antoinemeo8 ?️ waited for the arrival in ?? to claim their 1st victory on the #Dakar2018. @s_peterhansel ? maintains the overall leadership while @kmbenavides edges @A_Vanbeveren in the ?️ category. Here's the best from #DakarBolivia@DakarBolivia1 pic.twitter.com/AK9RBUXWYo

— DAKAR RALLY (@dakar) January 12, 2018
? GC – CARS??
1. @s_peterhansel
2. @CSainz_oficial +27'10"
3. @b_tenbrinke +1h20'41"#Dakar2018 #DakarBolivia
More / más info > https://t.co/R0ezQ07YE0 pic.twitter.com/ke7rYTxZCq

— DAKAR RALLY (@dakar) January 11, 2018
Bike
It was Stage 5 winner Joan Barreda who led the bikes off the start alongside the banks of the Titicaca Lake. Australian Toby Price dominated the stage but his KTM Factory Team teammate Antoine Meo eventually stole the win. 30 seconds behind, Price took third, finishing at the exact same time as runner up's Kevin Benavides from Honda.
With his 8th place, Matthias Walkner, another KTM rider, consolidated his third place overall.
Quad
It was first victory of 2018 for Jeremias Gonzales Ferioli, taking the win in La Paz ahead of Pablo Copetti and Nelson Sanabria. In fourth, Ignacio Casale still leads the overall rankings by 41 minutes.