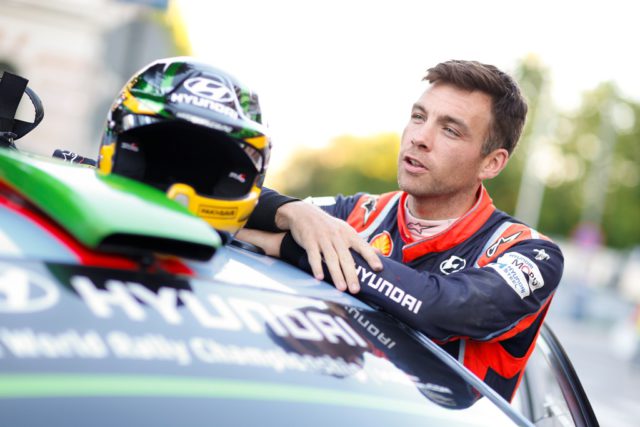 Hayden Paddon had a difficult season in 2017 but he is determined to finish it as well as possible in Australia.
As a driver what are the challenges you face at Rally Australia?
"The biggest factor is road-sweeping. This year, things will be a little bit different because the stages are more in the forests and less on public roads. That means there will be more dust to deal with. You also need to try to be clean and smooth."
What can you achieve at this rally?
"As with every gravel rally, whenever we get into the car the aim is to be on the podium and it will be no different on Rally Australia. Obviously, there's a little bit of extra motivation with all the Kiwis who come over to watch. We should have been on the podium in 2016 so we need to try to correct that this year."
How determined are you to end what has been at times a tough season on a high note?
"I'm not thinking about the year that's happened because it's already happened. I'm just trying to stay focused and look forward to this rally. We want a good result regardless, but obviously, it would be nice to go into the break with a little more confidence."
What does it take to be quick at this rally?
"Road position is important as is smoothness. But the WRC is all about being fast and committed so we need that as well. If it's dry the roads are really hard on tyres, even with the hard compound, so looking after the tyres will be key. You also need plenty of speed and reliability from your car."
Looking back, what are some of your fondest Rally Australia memories?
"I remember 2011 when I won the Production Car World Rally Championship. That was a pretty good day with all the Kiwis who came over. We faced a lot of financial barriers that year so to come through and win the championship on what was essentially my second home rally was a good day."
And a final word on the New Zealand fans who come over to watch you?
"It's not a home rally like some people think because the roads are completely different. Sometimes there are more Kiwis watching than Aussies so we want to put on a good show for them and give them something to cheer about."
Everything is in order and we are ready to get @RallyAustralia started. The stages are looking great – very fast and dusty (for now). We will use Shakedown tomorrow to fine tune the settings for these conditions #PaddonsPack @HyundaiNZ pic.twitter.com/CC17VWWP9t

— Hayden Paddon (@HaydenPaddon) November 15, 2017