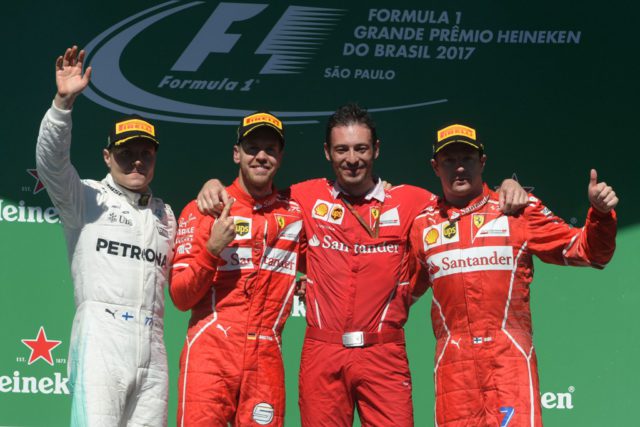 Sebastian Vettel won the Brazilian Grand prix after taking the lead right from the start. The Ferrari driver was happy after the race – not only for himself but for the whole team.
"I think this was one of the most difficult races of the season, there was no time for mistakes", Vettel commented
"My start was not perfect, but enough to beat [Valtteri] Bottas off the line. Then, Valtteri was always very close and we had the same pace, but I pushed very hard and managed to pull a gap."
"This win is very important for me and for the team. After such a long time it's been great to achieve it. I'm happy for the whole team because it has been through a tough couple of weeks, with long nights, hard work and a big support from the factory. I dedicate this win to all of them, to the guys here and to those who've been working in Maranello. It's been very hard for us, but this is a great day and I want to thank my team and our tifosi. Hopefully, we'll have a good race in Abu Dhabi!"
Video message from #Seb5 after the win. #BrazilGP #ForzaFerrari pic.twitter.com/brJcTG8TLq

— Scuderia Ferrari (@ScuderiaFerrari) November 12, 2017
Kimi Raikkonen was also at the podium – in third place
"My start was pretty average, I had some wheelspin and I was happy I did not lose any places. The first fifteen laps were a bit tricky with tires, but after the pit stop, I was happy with my car. I expected that improvement because I knew that with the soft tires I would be really strong. It was easy to keep up with the guys in front and at the same time look after my tires. At some point, I tried to push and I got closer. I felt I had a lot of speed but in these conditions, there was no way to pass", Kimi said.
"It was a bit frustrating, but when [Lewis] Hamilton was behind me I could see him closing up. But I had a good car and I was pretty confident that if I was not making any stupid mistake I could keep him behind. I held him quite easily, he never really had a good chance to get me. Obviously, we could have finished one place up, but it's a great result for the team. The car has been pretty strong all weekend. We have been strong almost everywhere this year, obviously in a few races we had some difficulties, but as a team, we can be proud. We are building ourselves for next year."