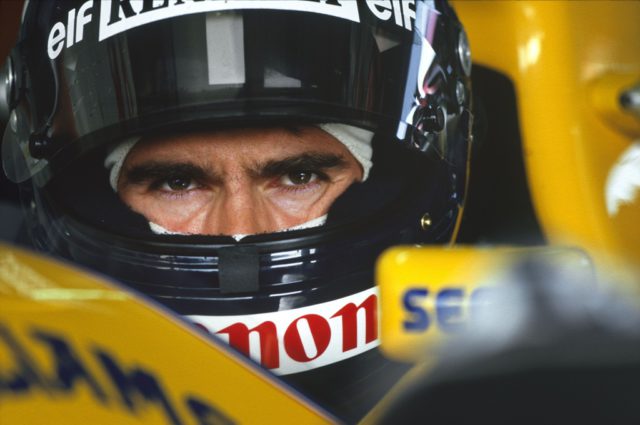 The entertaining and revealing autobiography of Damon Hill has just scooped the Royal Automobile Club's Motoring Book of the Year Award for 2017.
The 1996 Formula 1 World Champion – and one-time London motorcycle courier – received the prestigious Award at a special ceremony. The gala was at the Royal Automobile Club in Pall Mall.
In a superb selection of entries for the Award, now in its fourth year, Hill's book entitled Watching the Wheels: My Autobiography (published by Pan Macmillan) received high praise from several of the judges. One of them declared it: "A fabulously frank and cerebral account… one of the very finest sports biographies of its generation."
In it, Hill recounts his rise to on-track stardom, which included 22 Grands prix wins and 42 podium finishes. He also writes movingly of his father, racing driver Graham Hill, and of life at the head of his own large family.
The wholly independent judging panel also awarded the 'Specialist Book Of The Year' prize for an impressive feat of research and endeavour to Delage – Champion Du Monde by Daniel Cabart & Christophe Pund, published by Orep Editions. One of the judges said it "vividly covers development, competition, drivers, and individual chassis histories."
The autobiography of Damon Hill took the Royal Automobile Club's Motoring Book of the Year Award for 2017
The four runners-up were: Red Dust Racers by Graeme Cocks (Motoring Past Vintage); Jaguar C-type: The Autobiography Of XKC 051 by Chas Parker and Philip Porter (Porter Press); Stephen South: The Way It Was by Darren Banks (Performance Publishing); and Continental Journeys: The Definitive History Of The Bentley R-type and S-type Continental Models From 1952 to 1965 by David Bassoli (Nubes Argentea).
Peter Read, the Club's Motoring Committee chairman, said. "The Royal Automobile Club's library at Pall Mall is already among the finest in the world, and fortunately for us there's no shortage of exceptional new titles we'd like to add to it. Our independent judges undertake an incredible task for us, and it's satisfying that the 2017 winner Watching The Wheels by Damon Hill is an excellent read with the widest possible appeal.
"Meanwhile, Cabart and Pund's Delage – Champion Du Monde is an example of fresh research and beautiful production of which we wholeheartedly approve."
Among other invited guests on the evening of 1 November was Howden Ganley, another well-known ex-Formula 1 driver. He announced that he will be reviving Motor Racing Publications. That is one of Britain's most famous car publishing imprints. Mr Ganley discussed aspects of his life and career in and around the motorsport world, as well as revealing his plans for 'MRP'. He aims to reinstate it as an important British publisher of new motoring titles.
Oops! I done it again. Winner RAC Motoring Book of the Year. Many thanks to @RAClubtweets @panmacmillan #WatchingTheWheels #F1 pic.twitter.com/uockK9rMu8

— Damon Hill (@HillF1) November 2, 2017
Damon Hill is the son of two-time Formula 1 world champion Graham Hill
The Hills were the first father and son to both win the Grand prix crown. Nico Rosberg's triumph in 2016 made him and Keke Rosberg the other two who achieved it.
Damon started racing on motorbikes in 1981, later moving on to junior formulas. He became the Formula 1 Williams test driver in 1992 and received a promotion to a regular place in 1993. Hill was battling with Michael Schumacher throughout his career. He took the Formula 1 title in 1996, while the final years were much less successful.
Hill retired from Grand prix racing at the end of the 1999 season. After that, he participated in different events but mainly appears as a guest expert in Sky Sports F1 coverage.