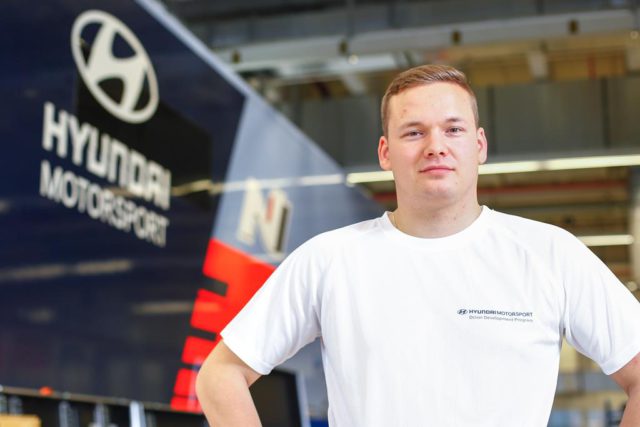 Hyundai Motorsport has selected Sarrazin Motorsport to run a New Generation i20 R5 for Finnish driver Jari Huttunen in selected WRC2 championship events in 2018 as part of the Hyundai Motorsport Driver development Program (HMDP).
Stéphane Sarrazin heads the French outfit. Hyundai chose it from a number of teams who received invitations to submit proposals for the project. Sarrazin himself took delivery of one of the first New Generation i20 R5 chassis in September 2016. The Alzenau team decided that Sarazzin Motorsport was the best option because of its professional approach to running the car, which they have shown on a number of occasions this year. Their most notable event came when they supported Tom Cave at Rally Finland. With the New Generation i20 R5, he took a first WRC2 podium.
In the coming months, the team will take delivery of a brand new car, which will be in their workshop throughout the 2018 season. However, for events, the crew will enter under the Hyundai Motorsport name.
Working alongside Sarrazin, who has previously competed at the highest levels of racing and rallying as a manufacturer driver, will add another facet to Huttunen's development over the course of the 2018 season. The Frenchman's experience will aid the 23-year-old's development, especially on tarmac.
Huttunen's HMDP campaign will begin on the stages of Rally Sweden (15-18 February) alongside co-driver Antti Linnaketo
The snowy conditions will be familiar to the Finnish pairing, who have previously driven in winter events in their native country. The 2018 rally will, however, be their debut at the event. It will be only their fourth competitive start at the wheel of a four-wheel-drive R5-specification car. The team will announce the remainder of his schedule for the season at a later date.
He will make his third rally entry in an R5, his first in a New Generation i20 R5, at Wales Rally GB working with Sarrazin Motorsport. This entry has been privately arranged. It will give the team and driver valuable experience of working together in competitive conditions.
Sarrazin Motorsport Team Owner Stéphane Sarrazin said:
"We are really proud that Sarrazin Motorsport has been chosen for the Hyundai Motorsport Driver Development Program. It's a fantastic opportunity for us as a team. We tried to develop our team with a professional approach, based on what we learnt in the past working with manufacturers, whilst maintaining a family atmosphere. The whole team is very excited to start working with Jari. And we will do our best to provide him with an outstanding car and great support. Arnaud Mounier, our technical director, has invaluable rally experience working in WRC2 and the French championship. With our experience, we will be able to accompany him during the development phase. We have excellent facilities to work from, most notably our test roads located right next to our workshop. It's a great environment to prepare Jari for his HMDP campaign."
Hyundai Motorsport Team Manager Alain Penasse said:
"Sarrazin Motorsport was the obvious best choice. Though they are a young team they are already knowledgeable in how to work on the New Generation i20 R5. With his experience at the highest levels of motorsport, Stéphane Sarrazin will also be able to aid with the work Jari completes away from rallies to build his confidence on tarmac. This will prepare him for a career as a manufacturer driver in the WRC. Starting at Rally Sweden is the perfect opportunity for Jari. From his rallying in Finland, he already has crucial experience of driving on snow and ice. And we are confident that he can make a strong start to his 2018 campaign at the event."
See @HuttunenRacing at our headquarters as he prepares for his 2018 HMDP season in a Sarrazin Motorsport run i20 R5: https://t.co/o8kNmcB5K8 pic.twitter.com/7P4irsuoNS

— Hyundai Motorsport (@HMSGOfficial) October 24, 2017