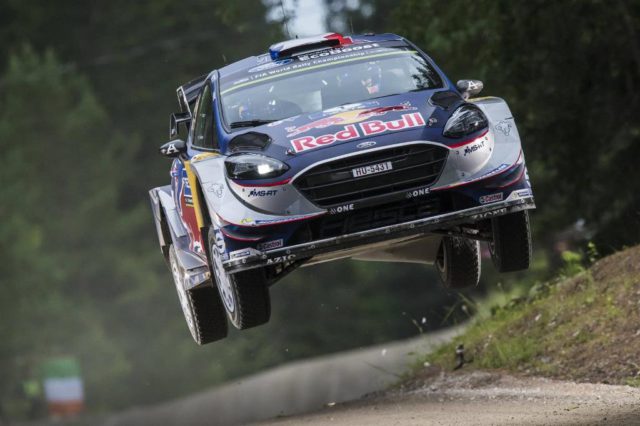 Dayinsure Wales Rally GB is the penultimate round of the 2017 World Rally Championship (WRC). Here are some curious numbers about the race.
£8,669,924 Economic benefit generated for the Welsh economy (2016)
92,907 Total visitors to the 2016 Dayinsure Wales Rally GB. That was the biggest attendance since the move to north Wales in 2013
£141,133 Raised for local charities and good causes since 2013
41,711 Followers on Facebook
35,100 Followers on Twitter
20,000 Expected through the turnstiles at the Rally Village in Deeside
17,600 Followers on Instagram
4,000 Metres of fencing at the Rally Village
3,985 Metres of event branded scrim produced
1,800 Brilliant volunteer marshals without whom the rally would not take place, giving 4,500 marshal days
1804 The date when the building of Cholmondeley Castle – venue of the Toyota RallyFest at Cholmondeley Castle – was completed
1,500+ Local students studying STEM subjects attending the BIG Bang interactive exhibition in the Rally Village
1,000 Bottles of beer supplied by Carlsberg
930 Total of competitive and non-competitive mileage clocked up by competitors finishing Dayinsure Wales Rally in 2017
384 Man hours given by Brenig Construction staff to prepare the Rally Village
190 Total mileage of the 21 competitive speed tests
155 Countries broadcasting WRC action from Wales
150 The full capacity number of entries contesting the International and National Rallies
100 Volunteer RallyMakers will be welcoming you to the event
60 The number of vehicles provided by Event Preparation Partner, Network Q
49 Historic rally cars from Group B and other eras rolling back the years at the Cholmondeley Castle RallyFest
Street fight at Cholmondeley on Saturday 28 October. Head for the Red Bull UK Street Fighter Fan Zone as well as the WRC action!#WRGB #WRC pic.twitter.com/6S2l0ea3d8

— Wales Rally GB (@WalesRallyGB) October 22, 2017
34 Cars being supplied by Toyota, the Official Car Partner
22 Nationalities competing on Dayinsure Wales Rally
21.96 Miles of the legendary Hafren special stage, longest speed test which is tackled twice on Friday
21 Special Stages, 19 of which are set in the legendary Welsh forests
19 Forklifts, telehandlers and scissor lifts provided by Hannaman Material Handling for the Rally Village
17 Years and just 25 days, the age of rallying's new sensation Kalle Rovanperä (born: 1 October 2000) who is making his WRC debut in Wales
17 Photocopiers and printers from B2 Business Systems in operation at Deeside HQ
14 New-era specification WRC cars on the entry list
10 Welsh Rally Legends being honoured: Jeff Churchill, Phil Collins, Howard Davies, Gwyndaf Evans, Nicky Grist, David Llewellin, Phil Mills, Phil Pugh, David Richards CBE and Neil Wilson
6 Different winners already in this year's FIA World Rally Championship: Thierry Neuville (3); Sébastien Ogier (2); Ott Tänak (2); Kris Meeke (2); Jari-Matti Latvala (1); Esapekka Lappi (1)
5 Ways to follow Dayinsure Wales Rally GB on UK television: Channel 5; BT Sport; S4C Ralio+; Red Bull TV and WRC.com
5 WRC career victories racked up to date by home favourite Kris Meeke
3 Title contenders targeting the 2017 World Championship crown: Sébastien Ogier, Ott Tänak and Thierry Neuville
2 Jumps at the Visit Conwy Tir Prince stage in Towyn
0.7s The slim margin by which Elfyn Evans missed out on his maiden WRC victory earlier this season in Argentina
.@NickyGrist gives us his thoughts about @ElfynEvans for this year's @WalesRallyGB. What are yours? #WRGB pic.twitter.com/bkvkXxQbRg

— Events Conwy (@eventsconwy) October 21, 2017
Sébastien Ogier leads the overall standings with 198 points and 37 points advantage to his teammate Ott Tänak
Thierry Neuville is third, at 38 points. There are two rounds until the end of the championship – in Wales and Australia. Ogier is chasing a fifth consecutive WRC title.
In the 11 rounds until now Ogier has two wins – in Monte Carlo and Portugal, while Tänak was first in Italy and Germany. Neuville has 3 victories – in France, Argentina and Poland but his rivals were more consistent in the races.
The fans will cheer for local hero Elfyn Evans, while Kris Meeke and Craig Breen will also receive part of the support. Citroen's Meeke has 2 wins this season but 2017 is really difficult for him. Still, he hopes to make a good performance in Wales. The most successful Welsh rally driver David Llewellin though hopes it will be Evans with the top honours.
Since its inception in 1932, the International Rally of Great Britain has been run 72 times. Enforced stoppages have included World War 2, Suez Crisis (1957) and Foot and Mouth (1967). It is one of only two events (along with Finland) to have retained its status as both a qualifying and scoring round of the FIA World Rally Championship (WRC) since the championship was established in 1973.
Dayinsure Wales Rally GB is organised and promoted by International Motor Sports Ltd (IMS), the commercial arm of the Motor Sports Association, the governing body of UK motorsport. Branded as Wales Rally GB since 2003 when the Welsh Government became the principal funding partner, the rally is based out of a central Rally Village in Deeside with competitive stages throughout north and mid-Wales.