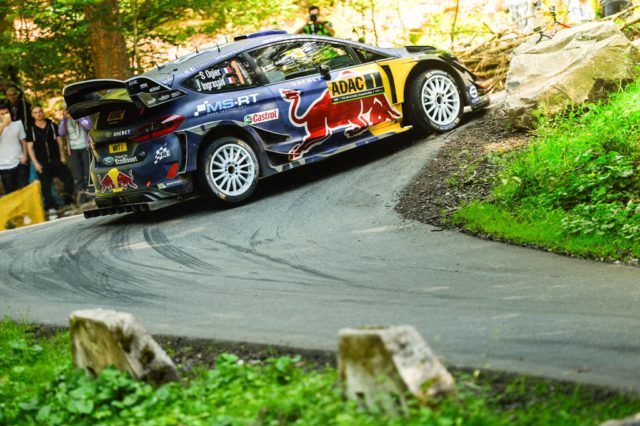 As the FIA World Rally Championship returns to action, there remains all to play for and M-Sport will be hoping to continue their success on the mixed-surface terrain of RallyRACC Catalyuna – Rally de España.
With the Ecoboost-powered Ford Fiesta WRC leading the way in both championships, the Spanish fixture could prove pivotal – the team having their first, albeit very slim, mathematical chance of clinching the manufacturers' crown.
RallyRACC Catalunya – Rally de España provides a unique challenge as the only mixed surface event on the calendar.
Team Principal, Malcolm Wilson, said:
"We've had a fantastic season to date, and we're now entering the decisive final phase. The competition could not be closer and the next three rallies will be crucial – Rally Spain in particular."
"With its mix of gravel and asphalt, this event is truly unique and the teams will have to master both surfaces in their pursuit of victory. Having secured a podium on every event this season, the Fiesta has proven competitive on every surface and we hope to see that continue next week."
"Sébastien Ogier certainly knows what it takes to win here, and Ott Tanak and Elfyn Evans will both be determined to settle a few scores. A strong result will be imperative to the outcome of the championship, and that is exactly what we aim to deliver."
"It won't be easy by any stretch of the imagination, and the competition will be extremely tough, but I have confidence in the team who are working their hardest to deliver our best."
Sébastien Ogier and Julien Ingrassia know what it takes to master the mixed-surface terrain of Rally Spain. The Frenchmen have secured victory at the Spanish fixture on three separate occasions and will be determined to deliver another strong result next week.
Fully refreshed after the summer break, the World Champion has relaxed with family and friends whilst also hosting a meeting with his Fan Club in Lyon.
Currently holding a 17 point lead at the head of the driver and co-driver standings, Ogier and Ingrassia will be aiming to maintain and extend that lead ahead of the season showdown.
Sébastien Ogier said:
"We're feeling fully refreshed after the break and ready to get back to business. Spain is always an enjoyable event. Its mixed surface makes it truly unique and the fans are so enthusiastic. I have a lot of special memories here, and it would be nice to add to them."
"Opening the road is a good thing in one sense as it means that we are back in the lead of the championship. But if it's dry the championship lead also comes with its challenges and we'll need to work hard to minimise the time loss through the opening gravel stages."
"Then, it's onto the fast, smooth asphalt that this event is famed for. We had a one-day test to get used to this circuit-like asphalt and the car felt pretty good. We completed a lot of kilometres for a one-day test, and that sees us well prepared to deliver our best."
"With the championships so close, that's exactly what we will have to deliver. We have a 17 point lead, but with 90 points still available there remains all to play for and we all need to work together to maximise our potential – starting with Rally Spain."
Fresh from victory at the previous round in Germany, Ott Tänak and Martin Järveoja have proven performance on both gravel and asphalt.
As such, the dual-surface encounter poses no apprehension and the Estonians are keen to deliver their best performance at the Spanish fixture – extending both their and the team's championship position.
During the summer break, Tänak hasn't strayed too far from his Ford Fiesta WRC and was behind the wheel at Rallyday in the UK – entertaining the thousands of fans as he delivered the debut public appearance of a new-generation World Rally Car on UK soil.
Ott Tänak said:
"I can't wait to get back behind the wheel. It was really nice to have some time at home with the family, but I have to admit that I was also starting to miss the thrill of competition!"
"We've proved that we can be competitive on both gravel and asphalt. Going from one surface to the next in the same weekend can be a little strange at first, but we all get up to speed pretty quickly."
"The gravel roads are really nice with a mix of fast and technical sections. We had a Tarmac test in Spain which reminded me just how amazing those roads are. They're so smooth and it really is like driving on a circuit in some places."
Elfyn Evans hasn't had the best of fortunes at Rally Spain, but the Welshman is eager to put that right next week. Just two points shy of the top-five in the drivers' standings, there remains all to play for and a strong result could elevate all three M-Sport drivers into the overall top-five.
Armed with a new gravel tyre, Evans also has one of the championship's most experienced co-drivers at his side as Dan Barritt celebrates his 100th WRC start in Spain.
During the summer break, Evans joined teammate Tänak at Rallyday.
Elfyn Evans said:
"As the only mixed-surface event on the calendar, Rally Spain is really unique. I've not had the best of luck there in the past, but we'll be hoping to put that right this year."
"The gravel stages can be quite technical and on the Terra Alta stage, we have long sections of asphalt in amongst the gravel. That can make the car move around quite a lot and you have to drive with the whole stage in mind."
"It's quite a strategic rally in that sense and you have to think about the long game with a day and a half of pure Tarmac to follow the gravel. The weather could also prove a deciding factor so it'll be interesting to see what the Spanish forecasts have to offer us this year."
Spain is prime rally territory and has delivered two victories for the M-Sport team – for Colin McRae in 2000 and for Markko Märtin in 2004 pic.twitter.com/KtbMiQexq5

— M-Sport (@MSportLtd) September 26, 2017