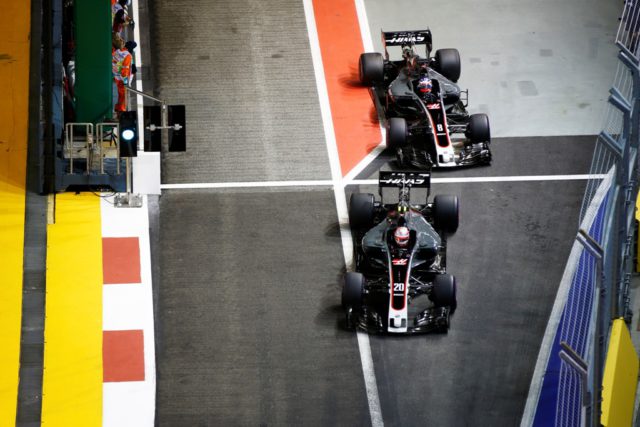 Forty-two points separate fifth-place Williams from ninth-place McLaren, with Toro Rosso, Renault and Haas F1 Team sandwiched in between. These three organizations are separated by a scant 15 points, and their proximity to one another in the constructors' standings is emulated on the racetrack, where the Haas VF-17, the Renault R.S. 17 and the Toro Rosso STR 12 are often nose to tail and sidepod to sidepod.
Entering Round No. 15 on the 20-race Formula One schedule, Haas F1 Team trails Renault by five points and sixth-place Toro Rosso by 15 points. It has a healthy 20-point advantage over ninth-place McLaren. Team principal Guenther Steiner looks back to the Singapore Grand prix and forward to the Malaysian F1 round.
You scored points in Singapore, yet dropped to eighth in the constructor standings as Renault scored even more points to leapfrog Haas F1 Team. Is seventh the team's goal this season, or are resources better spent on preparing for next year?
"We decided a long time ago that we would start focusing fulltime on the 2018 car in August, and we started partially on our 2018 car in March. You have to plan it well because it's so complex, but everyone else is working on their 2018 car as well. If you were to develop something at this point for the current car and you put it into production when it comes out it would be too late. If you develop something now, you won't get it to the racetrack for this year. We still want to achieve seventh, or the best result we can. We haven't given up.
"Singapore was one of the worst tracks for us, including Hungary. We knew we'd be weak on those tracks, and we were. We got away with two points, so we got away better than we expected to. Hopefully, at the other tracks, we won't be this far behind the midfield. In the midfield, anything and everything can happen. It's up and down all the time. Regardless, we'll work hard to achieve seventh."
Can you describe the #MalaysiaGP in 3 words?@KevinMagnussen said "Hot, humid & fast!" pic.twitter.com/Uy5zpeadaw

— Haas F1 Team (@HaasF1Team) September 26, 2017
Singapore was an excellent example of why you never give up. Can you talk about how you overcame the struggles of Friday and Saturday to earn a points-paying finish on Sunday?
"You just have to keep your head down and work. You always try to do the best job and keep everybody motivated. That's how racing works. We were very honest about it. If nothing happened, it would be very difficult to get in the points. But in Singapore, things happened and we were able to capitalize. We kept on fighting, like always."
Roger Penske is known to say "Luck is when preparation meets opportunity". Is that what Singapore was for Haas F1 Team?
"Absolutely. We had a good start. With hindsight, we could've had a different strategy, but I think we played it well. Our pit stops were two of the fastest in the top-10. Everybody was focused and tried to do the best. In the end, we got two points."
When you have a difficult day on the track, you refer to the data you're able to go through that evening to develop a better plan for the next day. What kind of data are you looking at and what changes does it tell you to make?
"You do a little bit of suspension, a little bit of aero – but you have to try to understand how the tire works best, and how you can get the tire in that working range. That is the most difficult thing to achieve this year."
When changes to the car are made, how big or small are they, or is it a lot of little changes that tend to add up to a lot?
"It's situational. Big and small are relative. Sometimes you make minor changes, and they work. Sometimes you turn the car around and nothing works."
Here's your guide to the #MalaysiaGP!

Will you be cheering on our @Haas_Automation drivers? pic.twitter.com/ljfS66UjWG

— Haas F1 Team (@HaasF1Team) September 26, 2017
When chasing a problem with the car, particularly in regard to balance or handling, how can solving one problem lead to the creation of another?
"We're less into curing understeer and introducing oversteer. We're a little bit away from that. It's more like, when can we get the tires to work?"
Do you sometimes feel that finding the car's optimum handling package is akin to balancing on a razor blade, where one moment you have it and the next you don't?
"Absolutely. With these tires – the type of tire, the temperature of the track, the temperature of the air, tire pressure – there are so many variables, if you're out on one thing you can be completely lost."
How important is the human element in making your racecar better – from a driver's role behind the wheel to the interaction with his engineers?
"Very important. The driver is driving the car, and he needs to be comfortable and confident. If he's not, then he cannot go fast. He needs to give that information to the engineer and then the engineer needs to make the changes. In the end, it's down to the human elements, not the computers. After all, the computers are fed by humans."