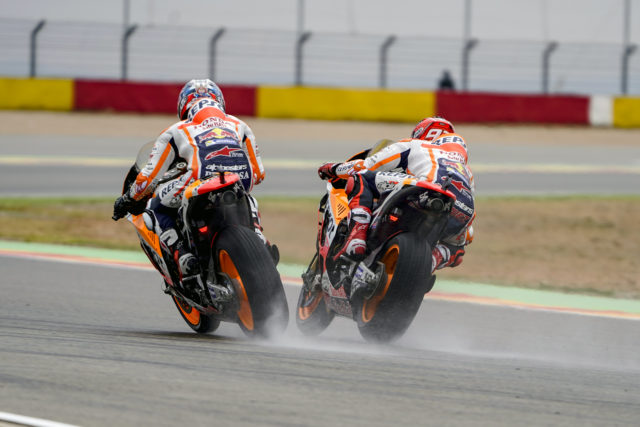 It was a positive start to the weekend for the Repsol Honda Team at Aragon in wet/mixed conditions. Dani Pedrosa set the fastest time of the day in 1:59.858min, the only rider under the 2 minute barrier. Jorge Lorenzo with Ducati was second, while Johann Zarco (Yamaha Tech 3) gave the third best time. Valentino Rossi was 20th in the standings.
"I'm happy with this day, even if it was obviously a bit strange", Pedrosa commented
"Both times when we were preparing to go on track, it started to rain and we had to change setup and tyres. As it happened, we never had the opportunity to fit the slicks and didn't do a lot of laps in the rain either because the track was wet, though not too much. This afternoon in particular, the last part of the track was almost dry, the long corner and the straight, and the tyres warmed up quite a lot. Tomorrow we'll see which conditions we'll have and what feeling we'll be able to find."
Good feelings during the first day! / Hoy hemos tenido buenas sesaciones rodando. ¡Mañana más! ??#AragonGP @MotoGP @HRC_MotoGP pic.twitter.com/L5E4ip27fv

— Dani Pedrosa (@26_DaniPedrosa) September 22, 2017
Lorenzo was also happy with his Friday work
"I was one of the quickest riders both in the morning and the afternoon, but the conditions in both sessions were very strange", the Ducati rider continued.
"The track surface was neither dry nor completely wet, so it is very difficult to draw any important conclusions after practice. I would have preferred to lap in dry conditions but just when we were about to go out on track it began to rain. Luckily the forecast for tomorrow says the weather is going to be good so we should have a chance to work better."
Zarco completed 33 laps at Aragon and they were his first on a MotoGP bike on wet at Aragon
"When it's like this, I can take more time and I don't need to stress too much. This is because when you have to push from the first lap onwards in the dry, it is quite difficult and then you can get a bit tired by Sunday. Therefore, I'm pleased that it was wet today and also, the feeling was positive. In Misano, I didn't have a lot of confidence in the rain because of the asphalt. Yet, the track is good here and I was able to manage well and improve lap after lap. Even this afternoon, I lost some positions but I kept calm, waited and then pushed at the end of the session. Now, I am ready for tomorrow", Zarco added.
FP2
Pedrosa 1.59.858
Lorenzo
Zarco
Marquez
Abraham
Crutchlow
Lowes
Dovizioso
Espargaro A
Espargaro P#AragonGP #MotoGP pic.twitter.com/ddLQmdLyr5

— Michelin Motorsport (@Michelin_Sport) September 22, 2017