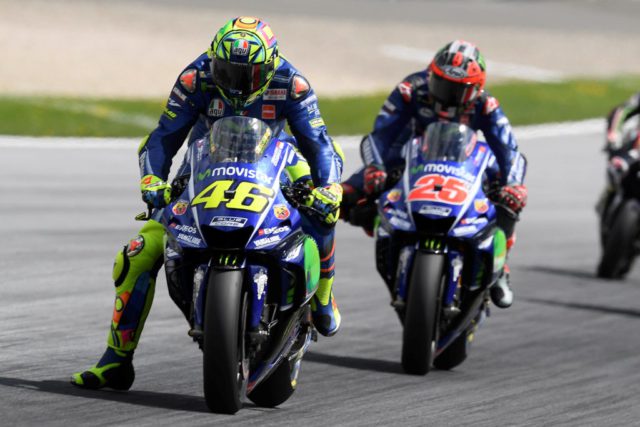 The Yamaha MotoGP Team arrives in Spain for a very special 14th round of the 2017 MotoGP World Championship. The Gran Premio Movistar de Aragón the last European round before the overseas races and Maverick Viñales' home Grand Prix. It is also the scene for either Valentino Rossi's return from injury, or Yamaha WorldSBK rider Michael van der Mark's MotoGP debut as a replacement rider.
He currently holds third place in the championship standings, 16 points behind the joint leaders and – as the 2017 season has four more rounds after this weekend and there are still 125 points up for grabs – the number 25-rider has all to play for. This weekend he will focus on getting his Yamaha set up for the elevation changes and multiple flowing corners at the Alcañiz track as soon as possible on Friday, so he can make another step forward in his championship challenge in Sunday's race.
The young gun has stood on the podium in Aragón three times before, thanks to a third place in 2011 in the 125cc class, a Moto3 second place finish in 2013 and a Moto2 victory in 2014. Last year he just missed out on the premier class podium, securing a best MotoGP placement in Alcañiz of fourth position. This year he fancies his chances to secure a place in the top-3.
After 17 days of recovering, Rossi got his first laps in at the Misano World Circuit Marco Simoncelli last Monday and Tuesday, before undergoing a medical examination today. Following the check-up, the Italian decided to make his way to Aragón in order to try to participate in this weekend's race. He will have to successfully complete a mandatory physical check by the MotorLand Aragón Chief Medical Officer. After that, there will be a final decision if he can take part in the Grand Prix weekend.
Despite missing the previous race due to injury, Rossi arrives at the 14th round holding fourth place in the championship, 42 points from the top of the standings
While his leg hasn't fully healed yet, the nine-time World Champion is happy he might have the opportunity to attempt riding his YZR-M1 again and greet the Spanish fans in Alcañiz, where he stood on the podium three times before (three third places in 2013, 2015 and 2016).
"Fortunately, yesterday I had a good test with my YZF-R1M in Misano. I tried also the day before, but the rain stopped me after a few laps. Yesterday I managed to complete 20 laps and find the answers I was looking for. Eventually, the test was positive and I want to say thanks to Dr Lucidi and his staff, who helped me find the best solutions to feel the least amount of pain possible in my leg when I'm riding."
"Obviously, at the end of the test I was in a little bit of pain, but this morning I went to Dr Pascarella for a medical check, and it came out with a positive result. At the end, I decided I will leave for Aragón and will try to ride my M1 this weekend. If I will be declared fit to ride, I'll have the real answer after FP1, because riding the M1 will be a much bigger challenge. We'll see. See you in Aragon!", Rossi said.
Yamaha WorldSBK rider Van der Mark will still attend the Gran Premio Movistar de Aragón
He will be replacement rider, in case Rossi is declared unfit or if he feels he can't compete in Sunday's race after any of the Free Practice sessions
Should he be stepping aboard the YZR-M1 this weekend, he will do so without any prior testing. Nevertheless, he is looking forward to the challenge and to taking in as much information as possible, should Rossi not be able to ride.
"Though it remains uncertain if I will get to ride the YZR-M1 this weekend, I'm still looking forward to it", Van der Mark commented.
"While I would like to get to step aboard the YZR-M1, I'm also fully supporting Valentino making his return. I'll either get to make my MotoGP debut or, should I not be able to ride, I will get to see Valentino live in action as he makes his comeback. As I said earlier, I've not been able to ride a MotoGP bike before the Grand Prix kicks off so, if Valentino ends up withdrawing from the Aragón GP, I will have to jump in at the deep end at the start of the next session and just try my best. However, after securing my first WorldSBK podium of the 2017 season in Portimão, I'm having a good momentum to step up to the challenge. I want to thank Yamaha again for giving me this opportunity. I'm sure it will be a good experience either way."
Viñales added that Aragón is one of his favourite circuits
"Because of its layout, in Aragón we can be very fast. We are 16 points behind and we need to close that gap as soon as possible. For that reason, it's very important to push and believe that we can do it. In Misano, we made a big step and I'm sure that we will do another important step this weekend. It's very important to stay focused", Maverick said.
Bring them and if you can keep them on for more then 2 hours I have a present! https://t.co/KF2knGJn2N

— Michael van der Mark (@mickeyvdmark) September 18, 2017