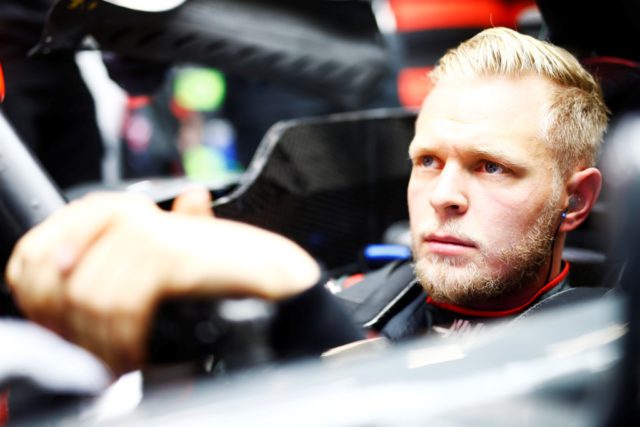 Haas driver Kevin Magnussen says that driving a 2017 Formula 1 car is more fun in general. But in the meantime, he has doubts if speeds will be higher at Monza, even with this year's generation of cars.
After coming from a factory team in Renault, what has the technical partnership with Ferrari been like, especially as Haas F1 Team developed its current-generation car which features a drastically different rules package?
"It's been a great help for the team having this partnership with Ferrari. It's obvious that Ferrari is one of the leaders in F1 technology and we've benefitted from that relationship."
How crucial has Dallara and Ferrari been in allowing Haas F1 Team to be competitive in not only its first year, but its second year when another new car needed to be built?
"I've only been a part of it since the second year, but I know the support we get from Dallara and Ferrari is extremely useful."
Monza is the fastest track Formula One visits. What are your expectations this year with the current-generation car?
"It will be fun, as every track has been this year with the new cars. It's a lot more fun to drive and more challenging. Monza might be one of the tracks that we aren't going to be that much faster, if at all. These new cars are strong in the corners, but not so much in the straights."
A 1:19.525 lap set by Juan Pablo Montoya during practice for the 2004 Italian Grand Prix is widely regarded as the fastest Formula One lap of all time, as his average speed was 262.242 kph (162.950 mph). Will that time be eclipsed this year at Monza and a new benchmark for speed set?
"I don't think we'll be strong enough on the straights, but we'll see. Maybe it will."
Where are the overtaking opportunities at Monza?
"Everywhere. Monza is probably the best track for overtaking on the calendar. It's always exciting racing there."
Is overtaking at Monza a bit like a drag race where it's about who can get on the power the fastest and most effectively?
"No. Monza is like any track in that it takes a perfect lap in every sense, and a perfect balance in the car as well."
Monza is a track with a lot of history and home to some of Formula One's most passionate fans. Can you describe the atmosphere there?
"Monza is all about the atmosphere. It's got so much history and the Italian fans are really into it and they're extremely passionate. It's always a fantastic experience racing there."
Have you had the opportunity to walk around the old portions of Monza, specifically the oval? If so, what ran through your mind when you saw the banking and realized cars in the late 1950s and early 1960s actually raced wheel-to-wheel there?
"I have been around the old track several times. It's crazy to think they used to race around that kind of track."
Would you have liked to have competed in that era just to see what it was like, or do you prefer to compete with the latest and greatest technology available?
"I'd prefer to be racing now, at least I think so. I can't say for sure because I haven't tried an older car from those years, though I'd like to. I think they had a lot of cool things back then that we don't have today."
Do you have any milestones or moments from your junior career that you enjoyed at Monza?
"I've had many good races there. I can't just pick out one."
What is your favorite part of Monza?
"Probably the Variante Ascari."
Describe a lap around Monza.
"Fast, long-straights and big braking zones."
Thanks to all the fans who showed up in Belgium. I really appreciate your support ?? See you in Monza! pic.twitter.com/DG81QoIgYf

— Kevin Magnussen (@KevinMagnussen) August 29, 2017