Since 2002 and its addition to the FIA World Championship calendar, ADAC Rallye Deutschland has become a major fixture. The race's history is closely linked to that of the Citroen team, which can claim 12 straight wins in Germany – including 11 in WRC – thanks to the talents of Philippe Bugalski, Sébastien Loeb, Sébastien Ogier and Dani Sordo. In fact, Citroen has been more successful at this event than at any other.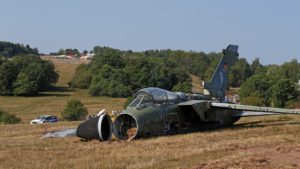 It is often said that the 'Deutschland' is three rallies in one. It is certainly true that the various stages are all quite different, which makes things tricky when it comes to settings, tyre management and driving style. And then there is the weather, which often muddies the equation.
This year there will be a number of new features, most notably a change of location for the rally's service park, now at the lakeside of Bostalsee instead of Trier.
The second tarmac rally of the season is run over 21 stages and a total competitive distance of 309.17km.
The first complete day takes in narrow, hairpin bend filled vineyard roads overlooking the Mosel. For 2017, three runs of a new super special will be held at Wadern-Weiskirchen.
Saturday moves onto the military Baumholder roads for the Panzerplatte tests, with mixed tarmac surface and the traditional, unforgiving Hinkelstein rocks lining the stages.
Sunday is a new-look itinerary with stages held on country roads near to the France and Luxembourg border, as well as stages close to the Bostalsee service park, including the new St Wendeler Land Power Stage.
Germany means
Effectively Hyundai Motorsport driver Thierry Neuville's home event – St Vith is just across the border in Belgium – this year's Rallye Deutschland has undergone a host of changes.
Following a fan-friendly rally show and ceremonial start in Saarbrücken, the city will host the opening special stage on an exciting 2,05-kilometre temporary course on Thursday evening.
It's off to the vineyard stages on Friday morning and while Mittelmosel and Grafschaft have been included on the Rallye Deutschland itinerary before, the new Wadern-Weiskirchen stage uses a compact circuit layout making it ideal for spectators.
Saturday's action focuses on the Baumholder military ranges. As well as two runs of the gruelling 41,97-kilometre Panzerplatte, the 2,87-kilometre Arena Panzerplatte circuit stage will be run three times. The new Römestraße stage is another highlight with the second visit forming the day's final timed test.
Sunday begins with the new Losheim am See stage and takes crews to the region where France, Germany and Luxembourg meet, while the event-closing St Wendeler Power Stage finishes at the service park, which returns to Bostalsee after more than a decade away in Trier.
Hyundai took its first WRC victory on Rallye Deutschland in 2014 with Thierry Neuville and Nicolas Gilsoul heading a one-two finish in front of Dani Sordo and Marc Martí. It made Hyundai the first non-Citroën winner of the rally since its elevation to world championship status in 2002.
WRC legend Sébastien Loeb enjoyed an unbroken run of Rallye Deutschland wins that spanned eight events before Sébastien Ogier finally ended his victory parade in 2011. However, Loeb hit back in 2012 for his ninth and triumph in former host city Trier.
Recent winners
| | | |
| --- | --- | --- |
| 2016 | Sébastien Ogier/Julien Ingrassia | Volkswagen Polo R WRC |
| 2015 | Sébastien Ogier/Julien Ingrassia | Volkswagen Polo R WRC |
| 2014 | Thierry Neuville/Nicolas Gilsoul | Hyundai i20 WRC |
| 2013 | Dani Sordo/Carlos Del Barrio | Citroën DS3 WRC |
| 2012 | Sébastien Loeb/Daniel Elena | Citroën DS3 WRC |
ADAC Rallye Deutschland schedule (GMT+2)
Thursday, 17 August
8:00am: Shakedown – Eiweiler (5.12 km)
6:58pm: Departure (Saarbrücken)
7:08pm: SS1 – SSS Saarbrücken (2.05 km)
8:23pm: Parc fermé (Bostalsee)
Friday, 18 August
8:30am: Service A (Bostalsee – 15 mins)
9:23am: SS2 – SSS Wadern-Weiskirchen 1 (9.27 km)
10:46am: SS3 – Mittelmosel 1 (22.00 km)
11:31am: SS4 – Grafschaft 1 (18.35 km)
1:09pm: SS5 – SSS Wadern-Weiskirchen 2 (9.27 km)
2:29pm: Service B (Bostalsee – 30 mins)
4:17pm: SS6 – Mittelmosel 2 (22.00 km)
5:02pm: SS7 – Grafschaft 2 (18.35 km)
6:40pm: SS8 – SSS Wadern-Weiskirchen 3 (9.27 km)
7:40pm: Flexi Service C (Bostalsee – 48 mins)
Saturday, 19 August
8:00am: Service D (Bostalsee – 15 mins)
9:11am: SS9 – SSS Arena Panzerplatte 1 (2.87 km)
9:31am: SS10 – Panzerplatte 1 (41.97 km)
10:29am: Tyre fitting zone (Birkenfeld – 10 mins)
11:10am: SS11 – Freisen 1 (14.78 km)
12:08pm: SS12 – Römerstrasse 1 (12.28 km)
1:50pm: Service E (Bostalsee – 30 mins)
3:16pm: SS13 – SSS Arena Panzerplatte 2 (2.87 km)
3:29pm: SS14 – SSS Arena Panzerplatte 3 (2.87 km)
3:49pm: SS15 – Panzerplatte 2 (41.97 km)
4:47pm: Tyre fitting zone (Birkenfeld – 10 mins)
5:28pm: SS16 – Freisen 2 (14.78 km)
6:26pm: SS17 – Römerstrasse 2 (12.28 km)
7:27pm: Flexi Service F (Bostalsee – 48 mins)
Sunday, 20 August
6:25am: Service G (Bostalsee – 15 mins)
7:25am: SS18 – Losheim am See 1 (13.02 km)
8:46am: SS19 – St. Wendeler Land 1 (12.95 km)
10:28am: SS20 – Losheim am See 2 (13.02 km)
12:18pm: St. Wendeler Land 2 (12.95 km)
12:38pm: Finish
1:00pm: Podium
Flat Out at @ADACRallye 2016 | Only 9 days to go ? #WRC #RallyeDeutschland pic.twitter.com/6kdwVcI5DN

— Rally Australia (@RallyAustralia) August 7, 2017