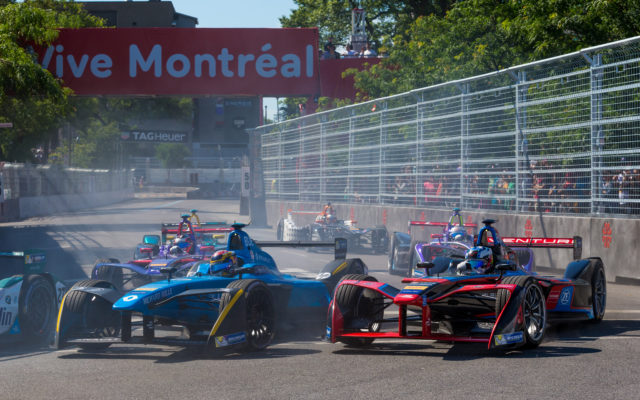 A few hours after the first race from the final Formula E round in Montreal finished the stewards of the meeting stated that the car of Sebastien Buemi was underweight. They took into consideration the difficult circumstances Renault e.dams was forced to work under before concluding that a four kilo discrepancy was too much to ignore. The penalty was disqualification. This means that from 10 points ahead, Buemi is now 18 points behind Lucas di Grassi. There are still 29 points to play, but from the favourite, he's now a rank outsider.
Thus Daniel Abt went to fourth, Sam Bird to fifth, while Nico Prost moved up to sixth. Mitch Evans ran as high as fourth after making a sensational start for Jaguar Racing. He couldn't keep that pace up, but seventh place was a valuable return in the Teams' championship fight.
"I am extremely disappointed with what happened. I will give it all to win both titles", was Buemi's short comment.
"We had a tough day that ended with a disappointment with Sebastien's disqualification", Alain Prost added.
"Our bad luck will continue with the ten-grid place penalty for Nicolas [in the next race] – we had to change the engine due to a dysfunction of the battery. We hope that we will be a bit luckier to win both titles. We had to rebuild a car in a very short time so I would like to congratulate and thank the team for their investment."
A few hours after the first race in Montreal the stewards of the meeting stated that the car of Buemi was underweight
60 second highlights from the inaugural Hydro-Quebec #MontrealePrix, round 11 of the 2016/17 FIA #FormulaE Championship. pic.twitter.com/QyskWjVSoA

— FIA Formula E (@FIAformulaE) July 30, 2017
The gloves are off… ? #MontrealePrix pic.twitter.com/BUrstbp6eN

— FIA Formula E (@FIAformulaE) July 30, 2017
A difficult day for the team today. Both titles to be decided tomorrow! We will fight until the end #MontrealePrix #SeasonFinale pic.twitter.com/KPO4dkqQbZ

— RENAULT e.dams (@RENAULTedams) July 30, 2017