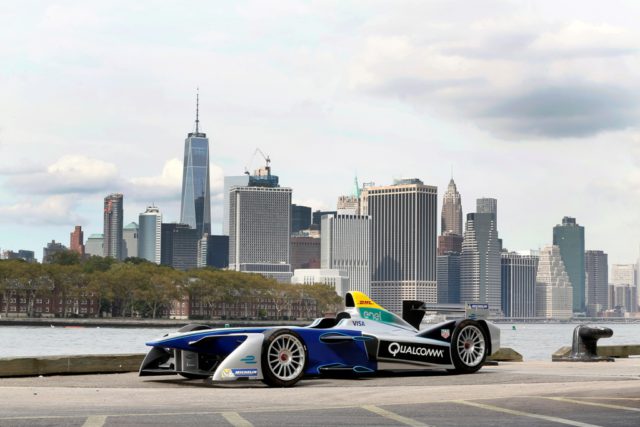 Formula E will lead the way in motorsport once again this weekend when it becomes the first international motorsport series to race in one of the five boroughs of New York City for the New York City ePrix. For many racing series, staging a race in the unofficial capital of the world has been the holy grail, so for Formula E to be the first championship to make it happen is a fantastic indictment, not just of the hard work put in by Founder and CEO Alejandro Agag and his team, but of the concept of the all-electric street racing series.
The Qualcomm New York City ePrix is a doubleheader, which means that fans get two opportunities to watch the 20 best all-electric racing drivers in the world tackle the track at the Brooklyn Cruise Terminal in New York. This is the penultimate event of the season, so things are really heating up in the fight for the championship and should guarantee plenty of wheel-to-wheel action.
Touchdown for the #FormulaE #NYCePrix #DSVirginRacing has landed in Brooklyn and we've already been busy! pic.twitter.com/9x2SqKl8j4

— DS Virgin Racing (@DSVirginRacing) July 11, 2017
The story so far
This season has been dominated by one driver so far: Sebastien Buemi. The reigning champion has won six of the eight races for Renault e.dams. However, a clashing commitment in the World Endurance Championship means that he will have to miss the New York City event.
This presents a fantastic opportunity for his principal title rival Lucas di Grassi. The Abt Schaeffler Audi Sport driver produced a superb drive – aided by some inspired pitwork – to win in Mexico City. He's 32 points behind, but with a maximum of 58 points on offer in New York, a strong weekend could swing the championship in his favour.
There are nine drivers who maintain a mathematical chance of winning the title, but of these Felix Rosenqvist is the outsider most likely to join the party. The Swede bagged Mahindra's first ever win last time out in Berlin, and only a penalty for an unsafe release denied him a double win. If he repeats that form this weekend, he'll have to be taken seriously as a title contender.
Another driver who will be missing New York is Jose Maria Lopez, who like Buemi has a clashing WEC engagement
Reigning GP2 champion Pierre Gasly will stand in for Buemi while his former team-mate at DAMS, Alex Lynn, has been given the nod to replace Lopez at DS Virgin Racing.
It's been a tough season for the two US teams. Andretti started well with Antonio Felix da Costa and Robin Frijns fifth and sixth in the season opener in Hong Kong, but there's been just one further top-10 finish since.
Between them, Jerome D'Ambrosio and Loic Duval scored points in each of the first three races of the season for Jay Penske's Faraday Future Dragon Racing outfit, but there's been nothing since then and the team has slipped to the foot of the points table.
Behind the scenes – sim day for @nico_prost & @PierreGASLY! #NYCePrix, we are ready ??? pic.twitter.com/11d051Emt3

— RENAULT e.dams (@RENAULTedams) July 11, 2017
Drivers' championship
Sebastien Buemi – 157
Lucas di Grassi – 125
Felix Rosenqvist – 86
Nico Prost – 72
Nick Heidfeld– 63
Jean-Eric Vergne – 52
Teams' championship
Renault e.dams – 229
Abt Schaeffler – 171
Mahindra – 149
DS Virgin – 97
TECHEETAH – 57
NextEV NIO – 51
Do @FIAformulaE drivers know New York slang? #NYCePrix #FormulaE pic.twitter.com/BOgtJCDNRg

— SPEED (@SPEED) July 10, 2017
The Qualcomm New York City ePrix
A New York street race first appeared on the Formula 1 calendar ahead of the 1983 season. But a series of complications meant it didn't happen and the European Grand Prix at Brands Hatch was hastily scheduled as its replacement (Nelson Piquet, father of the inaugural Formula E champion Nelson Piquet Jr, won).
It appeared on numerous provisional calendars since, the last as recently as 2014. However, arranging a race in New York proved to be beyond even the influence of Bernie Ecclestone, which demonstrates just what a coup this race is for Formula E.
The track is located at the Brooklyn Cruise Terminal in Red Hook. This means that the famous Manhattan skyline forms a stunning backdrop.
Length: 1.947km
Turns: 10 – 4 left, 6 right
Direction: Clockwise
Surface: Asphalt
Outright lap record: n/a
Official lap record: n/a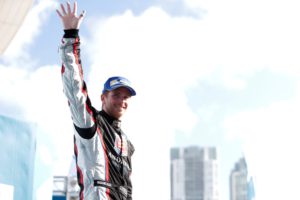 Local heroes
Unfortunately, there are no American drivers currently racing in Formula E. In the past there have been two in the series, with both Marco Andretti and Scott Speed turning out for the Andretti team.
Speed did a fantastic job on his debut to take a charging second place in Miami – the first and so far only time the Stars and Stripes has flown over a Formula E podium.
Michael Andretti's team has been an enthusiastic supporter of the series since the beginning. So far, a win has proved elusive, but there have been three Julius Baer Pole Positions and five podium places.
Jay Penske's Faraday Future Dragon Racing team also flies the flag for the American fans. Thanks to Jerome D'Ambrosio it has taken two Formula E wins.
The city
The City of New York is the biggest in the US in terms of population with around 8.5million people living across its five boroughs.
With over 800 different languages spoken, New York is the most linguistically diverse city in the world. This reflects its history as the primary port for immigrants entering the United States.
The city's routes can be traced back to 1624 when Dutch colonists established a trading post in Lower Manhattan and named it New Amsterdam. Its name changed to New York in 1664 after it came under the control of the English and King Charles II granted the land to his brother, the Duke of York.
New York briefly acted as the capital of the United States between 1785 and 1790, but it's been through its position as the most economically powerful city in the world, coupled with its cultural and educational influence, that led it to be viewed as the world's capital city.
The city has a rich and diverse sporting history thanks to the Giants, Jets, Yankees, Nicks and many others
In the early days of motorsport, the Vanderbilt Cup used to race on a track built on Long Island. In its heyday, it attracted the top drivers in the world. This ran from 1906-1911. It was revived for two races in 1936/37, but these were not a success.
CART ran a race at the Meadowlands Sports Complex in East Rutherford, New Jersey, which is in the metropolitan area of New York. It was part of the calendar from 1984 to 1991 and was won by Michael Andretti in 1990.
With an air quality index rating of 67 (out of 500) the air in New York is considered moderate. But air pollution contributes to the deaths of around 2700 New Yorkers each year. To combat this, Mayor de Blasio established the OneNYC initiative. The target is for New York to have the cleanest air of any big city in the US.
New York currently gets 23 percent of its electricity from renewables. The city aims to increase this to 50 percent by 2030. This will be helped by 30 new wind farms being planned upstate, while 100 megawatts of electricity (enough to power over 100,000 homes) will be produced through solar panels on public buildings in the city.
The Clean Fleet Initiative means that New York will replace half of all non-emergency government vehicles with electric versions over the next 10 years.