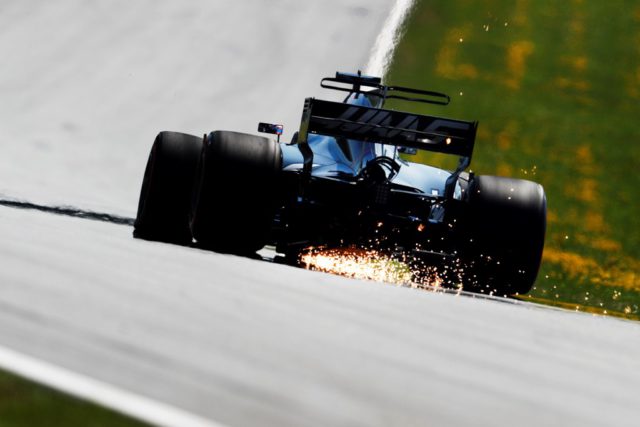 The Haas team in Formula 1 plans to fit its cars with Carbon Industrie brakes on Friday – to see if it all works on its second attempt. Team principal Guenther Steiner gives more details about that and all other kinds of fine points about the British Grand prix.
The time between Austria and Silverstone is tight with back-to-back grands prix. How do these back-to-back race weekends compare to back-to-back fly-away races? Is it actually harder because the same transporters and equipment need to be moved from Austria to England?
"It's about the same. You use different means of transport, but either way the schedule is very tight. It's all well organized, so normally there are no problems."
Silverstone is a home race for most Formula One teams. Even Haas F1 Team has a European base that is approximately 30 minutes from the track. NASCAR's home race for teams is Charlotte, North Carolina. And for those races, each crew member arrives on his or her own, driving and sometimes even cycling from home. Is this possible for our crew members, or do you treat it the same as any other race and put everyone up in a hotel and they ride together to the track?
"Travel is a little bit mixed for the team members. Some stay at home and then take a bus to the track since there is limited parking, while others will stay at a hotel and then also take a bus to the track. If they arrive at our Bunbury location at a certain time, they can catch a ride to the track as well."
Track records have been broken at every track Formula One has visited so far this season. With Silverstone being the first true power circuit of the year, what affect will the increased speeds have on your car's setup compared to last year when the speeds and the amount of downforce you had were lower?
"We've gone faster at every circuit this year because of these new cars with the new regulations. With the wider cars and more downforce, we just go faster. And for the setup, we will use what we learned from the last nine races before Silverstone."
Silverstone is a fast track where drivers are able to run full throttle for long periods of time. How do you help them find that edge to determine when they can be flat out and when they can't?
"They find that edge themselves. If the engineering team gives them a good, stable car, they are not afraid to go flat-out. But they need to be confident that the car will do what they want the car to do, and that is down to the engineering team."
Considering these current-generation cars are built with an inherently high amount of downforce, how much downforce are you able to take away to give the cars more speed in the straights without jeopardizing corner speed?
"There is no number to it. There is always a compromise between corner speed and straight-line speed, and that is best found in the simulations before the race weekend. Normally, you get very close to it, but the fine-tuning is still on the track."
How much downforce do you want in the car at Silverstone? As much as the driver can get, or do you want him to be able to slide the car a bit and have a little less drag?
"The car must be stuck to the ground. As soon as you take away too much downforce, the tires won't last and you begin to have graining, which the drivers do not like. We have to take off just enough downforce so that the car doesn't slide and start going through the tires too quickly. It's less about the driver feel and more about tire preservation. The driver may be more comfortable when the tire is going away, but then you risk the chance of the tire going out."
With increased speed comes an increased need for braking ability. Where is Haas F1 Team with its brake technology? Is there a plan to again outfit the cars with Carbon Industrie brakes?
"We have a plan to fit the cars with Carbon Industrie brakes on Friday – both cars in FP1 and, hopefully, FP2 – to see if it all works on our second attempt. If it all works, we will use them over the weekend, but we can only commit to that after we've had one practice."
Cooling the Carbon Industrie brakes was problematic when you first used them in the Russian Grand Prix. What have you done to alleviate the cooling problem without sacrificing aerodynamic performance?
"The aerodynamics team did a lot of CFD work and then we had to modify the brake discs according to what we found using CFD."
At most circuits, pole position is critical. But for some reason, not as much at Silverstone. There the pole winner has only gone on to win five times in the last 19 years. Is this happenstance? Or is there something about the track's layout that provides more opportunity for those a little deeper on the starting grid?
"I don't think there is a specific reason. I know that it is, for sure, possible to overtake at Silverstone. But I think so few people not winning from the pole is more happenstance than anything."
Weather tends to be a large variable at Silverstone, with hot weather interspersed with cool, blustery and even raw conditions. How do you prepare for temperature swings and weather changes, be it at Silverstone or anywhere else?
"Other than having data together for the tires and how they work in the different temperatures, it's honestly hard to prepare. The best we can do is keep our eye on it and go with what the weather gives us."
Before the #BritishGP weekend, take a lap with @Haas_Automation's @KevinMagnussen and @Codemasters!

Watch: https://t.co/pnnrrHnvjA pic.twitter.com/Su5fzq82gG

— Haas F1 Team (@HaasF1Team) July 11, 2017