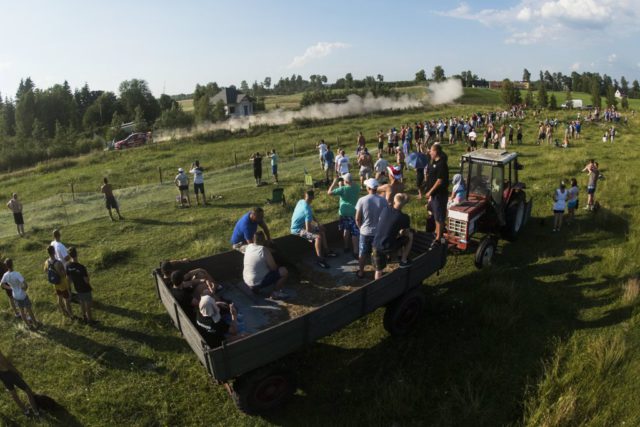 They first met at secondary school in Krakow, where after classes they swapped motorsport magazines and talked about how one day they would become professionals. Michal Kosciuszko was into karting, while Taddy Blazusiak was starting out on bikes. Years later, they achieved their dreams, with Michael driving on the WRC and Taddy becoming an enduro bike champion.
In 2010, they were the stars of a special motorsport event in Mikolajki – the host town of Rally Poland – where Taddy rode a bike and Michal drove a car on a frozen lake. The bike won, but that wasn't the bit of the contest they remember most. Instead, it was the night before, when they spent hours racing each other in recovery trucks – the only vehicles available…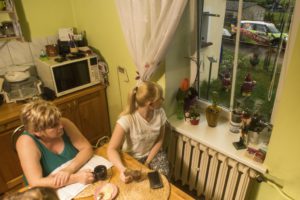 Now the two friends return to Mikolajki alongside Mike Chen on Red Bull TV for Rally Poland: the second-oldest event in the World Rally Championship, founded in 1921. For Taddy, it's his first visit to the WRC, whereas Michal has driven Rally Poland more times than he can remember. This weekend, they're both looking forward to experiencing it from a different perspective.
"Michal and I have been buddies for a long time," says Taddy. "The frozen lake thing was really cool, so it's funny to be coming back to Mikolajki with Michal now! I don't live in Poland anymore, so it's great to come home, see friends, and spend time with Polish motorsport fans: that's what I'm looking forward to most. I'm not a WRC expert like Michal but I've always been a huge fan of rallying. And I'm also really looking forward to a special driving experience that we're going to be doing on Friday…"
One thing we can expect more than anything else on Rally Poland this weekend is raw speed
"The special stages are like nowhere else in the world and I can't wait to show them to Taddy and everyone," points out Michal. "They're actually even faster than Finland, with average speeds up to 130kph on gravel roads, but a bit more forgiving as we tend to have fields rather than trees by the side of the road. That probably encourages the drivers to push to the maximum. Poland is where you see cars fly like aeroplanes!"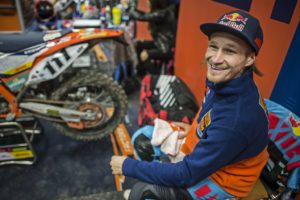 "I'm super-excited," adds Taddy. "This year's more powerful cars are going to be really well-suited to these stages. I've been following the championship all year on Red Bull TV, so now it's great to be an actual part of the show."
Old friends obviously think in the same way, as Taddy and Michal both agree on who they reckon will win. There have been five different winners from the seven rallies held so far, so it's never easy to choose, but they've both picked Ott Tanak.
"He's fast, he's got lots of confidence after winning the last round in Sardinia, and he was really amazing in Poland last year," says Michal. "With him and Sebastien Ogier, I think M-Sport has the perfect line-up. But Hyundai and Thierry Neuville are very strong too, winning so many stages. For me, the big surprise of the rally could be Toyota's new star Esapekka Lappi. He won Rally Poland in 2012 when it was part of the European Rally Championship and I think he will be really quick on these types of roads."
Having driven on Polish stages ever since he had a driving licence, Kosciuszko has a couple of solid pieces of advice to pass on to anyone visiting Rally Poland
"If you're a driver, you've got to 100% trust your pace notes," explains Michal. "That's true everywhere, but especially Poland. You're going so fast that it can be quite scary if you're not completely committed! Those speeds mean that the gaps between the cars are quite small, so precise pace notes really make a difference. If you're going to concentrate on just one thing, choose that."
There's always the scenery to connect with too: in the sense of enjoying nature, rather than rolling your car into a ball of scrap.
"One of the best things about Rally Poland is that it takes place in the most beautiful part of our country," adds Michal. "We've got the Mazurian Lakes all around, so you can even get to the stages by boat. It's going to be more than 30 degrees outside, so I hope you'll get a real sense of the Polish summer on Red Bull TV this weekend!"
Rally Poland gets going tonight with a superspecial stage at Mikolajki Arena before the rally concludes on Sunday after 23 stages. Red Bull TV will broadcast highlights from Friday to Sunday as well as a live show starting at 13:50 on Saturday (local time), featuring the awesome Baronowo 2 stage directly as it happens – on redbull.tv/wrc or any connected device.
Stay safe @rajdpolski! Stand back, follow safety instructions and watch out for flying stones. Enjoy the weekend! #RallyPoland ?:@AtWorldMA pic.twitter.com/EaVhmZk6tm

— WRC (@OfficialWRC) June 29, 2017