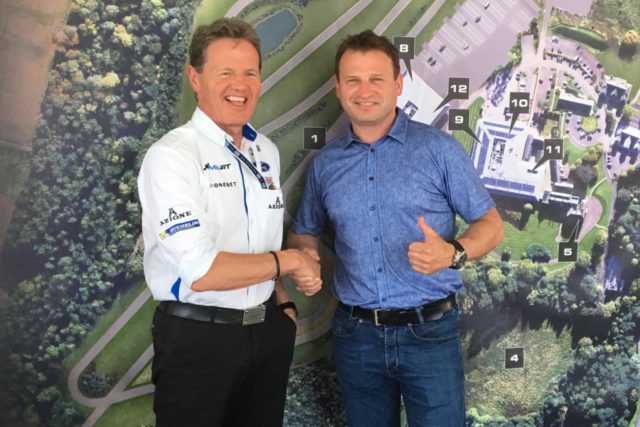 Armin Kremer will contest the 10th round of the FIA World Rally Championship with an M-Sport prepared Ford Fiesta WRC.
Last month saw the multiple German, European and Asia-Pacific champion from Mecklenburg get his first taste of 2017 machinery. Then he travelled to the UK for a test drive. Just a few kilometres at M-Sport's private testing facility was enough to convince the German and he is now looking forward to contesting his home event at the very highest level.
In preparation for this unique challenge, Kremer will conduct a pre-event test alongside M-Sport's manufacturer entries in early August.
The German's entry at this year's Rally Deutschland goes full circle. Kremer took to the wheel of M-Sport's Ford Focus WRC at the very first FIA World Rally Championship round on German soil in 2002.
"I am overwhelmed and proud. It is an honour and a great pleasure for me, but also a huge challenge to compete with the same rally car at the ADAC Rallye as the four-time world champion Sébastien Ogier", Armin Kremer said.
"I will translate everything in order to confirm the confidence placed in me by M-Sport and Malcolm Wilson. It is still too early to think about a result. But I am sure that with the support of the M-Sport drivers and engineers I will quickly get used to the Ford Fiesta WRC and find the optimal set-up for me."
Armin Kremer: "Anyone who knows me knows how much I want to get a decent result and to offer the German fans a good show"
M-Sport Managing Director Malcolm Wilson added:
"It's great to welcome Armin back to the team for his home event. We've worked with him in the past and he is an extremely experienced driver – especially at Rally Deutschland."
"It's fantastic to have a German driver in a Ford Fiesta WRC for his home event. Particularly as the home of the road-going Fiesta is just up the road in Cologne."
"I'm sure that Armin will enjoy every minute of it. I also have no doubt that his vast experience of these unique roads will benefit the entire team."