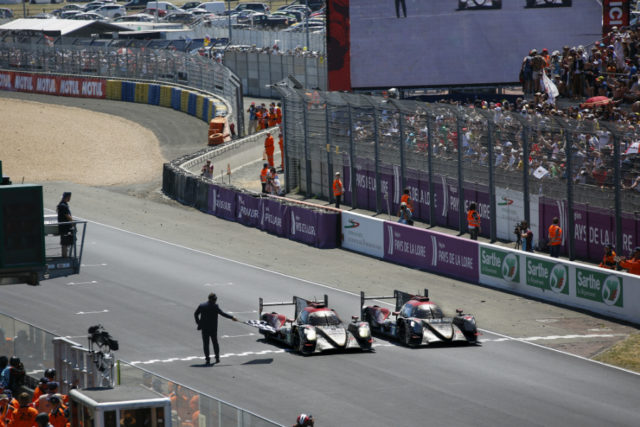 Forty years after its very first entry in the 24 Hours of Le Mans, ORECA achieved a remarkable victory at the legendary race in the LMP2 category. It also took the win with one of its cars for the third consecutive year.
There were 14 cars of the French manufacturer at the grid of the 85th 24 Hours of Le Mans. All the manufactured in Signes chassis behaved brilliantly. Some race incidents led to several withdrawals, but what's 11 of the 14 chassis crossed the finish line.
But the greatest of all performances is the final result, with a whole group of Oreca chassis in the lead of the LMP2 standings at the end of the race
After a Homeric fight between Vaillante Rebellion's two 07s and Team Signatech Alpine Matmut's Alpine A470, Jackie Chan DC Racing – co-owned by famous actor Jackie Chan – finally got the last word, in style. The Chinese team delivered an almost entirely flawless race – with the supervision of British team Jota Sport – taking control of the class at the end of the night. It even led the race when almost all the LMP1s retired but the Porsche #2 took overall victory. Still, the joy in the Jackie Chan DC Racing garage was great after the final.
For its 10th year participating in the 24 Hours of Le Mans, the Rebellion brand through squad Vaillante Rebellion was also on the way to clinch the laurels, up until half-way through the race at least. Both cars of the Swiss team raced in the first two positions from the very beginning but had some problems. Third place overall and second in LMP2 is still a highly respectable result.
Defending the title, Team Signatech Alpine Matmut arrived in 5th place overall with the #35, completing the Oreca chassis winning quartet in this challenge. A whole group of the French chassis cars finished in the top 10.
"I'm thrilled. This outcome achieved by our chassis is simply exceptional. Everybody knows how much endurance and particularly the 24 Hours of Le Mans mean to us", the manufacturer's CEO Hugues de Chaunac said
"Emotionally, it's a very special race for me because I'm really attached to it. What our cars have achieved in this challenge is a fantastic reward for all the work that tour teams have done throughout the last years, and particularly since last year with our new car. Already it was such a joy to see fourteen of our cars on the starting grid. No other manufacturer had ever achieved such a performance. But now, to imagine that an Oreca, all the more in the year of its first entry, would be leading the race in front of the LMP1 cars, just about one hour away from crossing the finish line and winning, a one-two-three win, that's even better, totally magical.
"I'm immensely proud of our company. This pays tribute to all of the experience we have acquired throughout the years"
"I want to dedicate this historical win to all of those who have worked on this project as well as all our collaborators. They've crafted this victory. Our history is full of beautiful chapters such as this one and we're planning on keeping it going. Motorsport is Oreca's passion and it doesn't weaken. This kind of achievement actually makes our passion even stronger."
We did it!! P2&P3 in overall classification for the #38 ans the #13. Amazing job by our teams @DCRacing_Team and @RebellionRacing !! ❤️

— Oreca (@Oreca) June 18, 2017