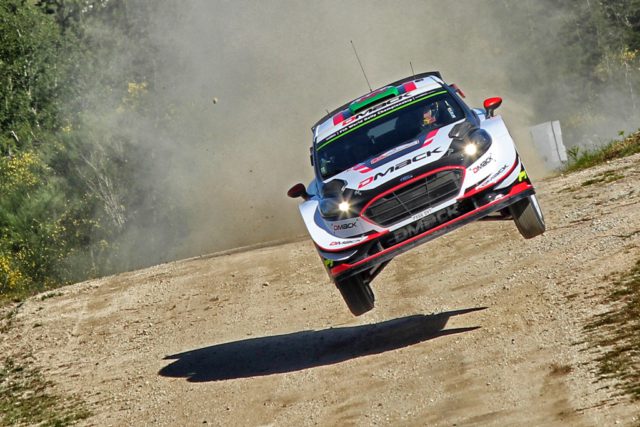 Elfyn Evans and Daniel Barritt secured their best result at Rally Portugal, finishing in sixth place the sixth round of the World Rally Championship. The road to that result was not easy at all. The challenging terrain delivered something of a mixed bag for the British pairing – flashes of speed offset with challenges.
When feeling comfortable behind the wheel of his DMACK-shod Ford Fiesta WRC, Elfyn Evans hinted at what was achievable – less than a second adrift of the stage victory on a number of occasions.
A puncture, an off-road excursion and a struggle with inconsistent grip levels dropped him down the order. But he regrouped to take sixth place and an additional three points from the Power Stage at the end of the rally.
Elfyn Evans: "It's been a rally of ups and downs"
"I made a mistake half way through SS11 and was quite lucky to get back on the road. We did, but we drove to the end of the stage with a puncture and that then caused some damage to the damper – which hampered us for the longest stage of the loop (SS12)", Evans explained.
"Later we decided to try some different things and experimented within our package. It didn't work out, but nothing ventured nothing gained and we did manage to get back up to sixth which is a positive."
"It's been a rally of ups and downs. It's not been the perfect weekend, but there are plenty of good things to take away. It wasn't ideal that we made the mistake on Saturday, but when the going was good, so was the speed and we have to take that positive forward."
Glorious weather in Cumbria as the boss organised a little get together to celebrate our successful start to the season! pic.twitter.com/K6AXNILR4k

— M-Sport (@MSportLtd) May 26, 2017