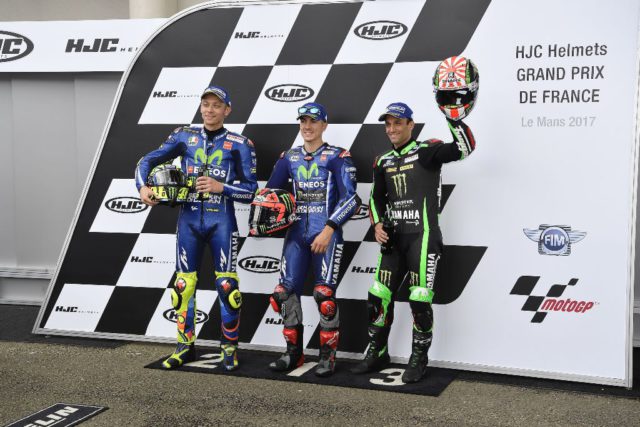 Yamaha MotoGP riders Maverick Viñales and Valentino Rossi went all out in an intense 15-minute qualifying session at the Le Mans Bugatti Grand Prix race circuit today, that saw the teammates secure the first two slots on the front row for tomorrow's Grand Prix de France.
Having topped FP4, Viñales stepped aboard his YZR-M1 at the start of the qualifying session. As one of the last men to leave pit lane, he enjoyed some free track space and went directly on the attack. He took the top spot with his first flying lap, a 1:33.134min, before being pushed back to sixth place when the pace quickened.
With more than seven and a half minutes to go, he came into the pits for a fresh set of rubber. Two minutes later the Spaniard was back on track, now in seventh place in the timings, and had just enough time left for three more hot laps. He put his mind to it and produced a strong 1:32.146 for provisional pole, but further underlined his speed with a 1:31.994min on his next lap, that earned him his second pole position of the season.
Rossi also flexed his muscles during the 15-minute shoot-out. He was quick to head out to make the most of the time available, but decided to let some chasing riders pass at the end of his first hot lap. He moved up to second place on his third attempt, before heading back to the box with six minutes remaining.
The Italian continued his efforts one and a half minute later. He set another personal best lap that moved him up from fourth to second, despite having to avoid a crash from Jack Miller that happened right in front of him. The Doctor still had some time left for a final push, and improved his time to a 1:32.100, to keep a strong hold on second place, ahead of Johann Zarco, who made it a full Yamaha front row.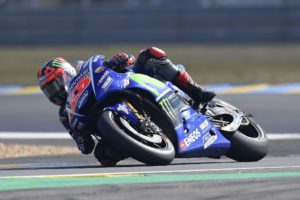 Maverick Viñales: "It was a tricky qualifying, because the track was not at its best"
"But anyway our bike is really good here. We knew we could do it. So I just tried to concentrate and push to the best of my ability and bring home the pole position. We have to be really careful with the weather, we also have to pay a lot of attention if we have a flag to flag, a wet race or even on the dry, we still have to improve. We have to work tonight and try to improve for tomorrow", Viñales said.
Valentino Rossi added: "I'm so happy, because today was the first practice in the dry, so you never know. We modified the setting a bit, and that, together with this track and this asphalt, makes our bike work well. In the end it was a really good qualifying. I think on the first flying lap I was fast. But I reached Jack a bit too early, so I lost a bit of time. It's a shame for missing out on the pole position, but starting from second place is OK for the race."
An all-Yamaha front row, with our riders calling the shots in 1st and 2nd place. #MovistarYamaha #MotoGP #FrenchGP pic.twitter.com/BVDMwHNeLK

— Yamaha MotoGP (@YamahaMotoGP) May 20, 2017