Bono Huis, the Faraday Future Dragon Racing sim racer, clinched victory in the inaugural Las Vegas eRace. With it he received the biggest prize in eSports racing history: $200,000 and an additional $25,000 for pole position.
The Formula E drivers and sim racers took to the stage in front of a packed crowd. The race was at The Venetian Hotel in the Sport Business Innovation zone on the 50th edition of CES.
An enthusiastic gathering of media, exhibitors, industry analysts and the FIA President Jean Todt watched history in the making as the drivers and sim racers went wheel-to-wheel on the famous Las Vegas Strip.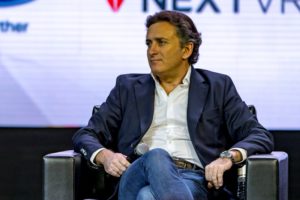 Alejandro Agag, Founder & CEO of Formula E, said: "This first eRace in Las Vegas was a great success. It's exciting to have brought Formula E into the inner sanctum of CES and I think this can be the first in a big future for Formula E in eSports racing. We will continue to pursue new and innovative ways to improve our presence in this fast growing landscape, while maintaining fan engagement at the forefront of all our initiatives."
Huis topped every session throughout the event, after that made a clean getaway from the line and held on to his lead throughout the first stint. Following the first round of pitstops, the Dutch driver dropped to second place behind Olli Pahkala (Mahindra Racing).
Despite entering unknown territory, the Formula E drivers demonstrated that driving ability is comparable across both a real and virtual world in the Las Vegas eRace
Felix Rosenqvist (Mahindra Racing) showed his natural ability for sim racing and versatility. He put in a strong performance to finish second as the best-placed Formula E driver.
Huis eventually inherited success from Pahkala. Olli got a 12-second penalty following a post-race investigation.
Pahkala took the lead mid-way through the race, but was later found to have suffered a technical glitch with a sustained power delivery of FanBoost over and above the limit for five laps during his second stint. Pahkala was demoted to third place following the application of the time penalty and rounded out the podium finishers.
Jose Maria Lopez (DS Virgin Racing), Sam Bird (DS Virgin Racing), Daniel Abt (ABT Schaeffler Audi Sport) and Nelson Piquet Jr. (NextEV NIO) finished in the top 10, which highlighted the close competition between the drivers and sim racers.
David Greco (Renault e.dams) crossed the line in 15th place, but picked up fastest lap and $10,000 in the process.
Congratulations to @grecoracing the first ever @FIAformulaE Visa #VegaseRace #VisaFastestLap winner, presented by @NelsonPiquet. pic.twitter.com/EZxcx0z9Wu

— Visa Europe (@VisaEurope) 8 January 2017
Formula E's continued venture into eSports in Las Vegas showcases the similarities of motorsport in a real and virtual domain. Both are competitive, entertaining and fan inclusive, but with racing at its heart.
Congratulations to @bono_huis for his win and to @FIAformulaE for a great event #VegaseRace at the #CES2017 #eSports pic.twitter.com/MW5YO9UJJQ

— Jean Todt (@JeanTodt) 8 January 2017