We all need a little sunshine in our lives. Especially as the days grow shorter and the nights get longer and darker.
And that's why brightly coloured cars such as the new Honda Jazz could make all the difference between a good day and a bad one – in more ways than one.
The Honda Jazz is already one of the warmest and most cheerful cars on the road. That is possible thanks to its strong character, high levels of owner satisfaction and rewarding driving dynamics. But drivers who choose colours such as the model's bold Sunset Orange and Attract Yellow Pearl are likelier to be happier – and safer – than most.
Psychologists have shown a strong link between colour and personality. Hues such as orange and yellow are most popular with extroverts and satisfied people. According to the psychology website www.verywell.com orange is a colour that brings to mind feelings of excitement, enthusiasm, and warmth. Yellow is cheery and also warm. According to the site's expert psychologists, yellow can also increase the metabolism. That makes it the perfect choice of cars for those looking to shed a few pounds ahead of Christmas.
But it's not only in terms of mood and cheerfulness that owners of brighter cars are better off
Studies outlining some very clear safety benefits
A report from Australia's Monash University, Melbourne, found that orange cars were statistically least likely to be involved in an accident. Other light or bright shades such as yellow, white and silver also faring well. Black and grey cars, conversely, were considered less safe. Experts put the higher accident rate down to the cars being less visible, especially in poor weather or low light.
Phil Webb, Head of Cars at Honda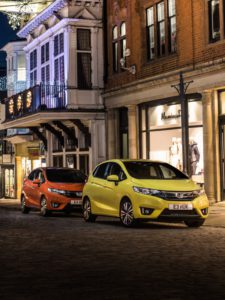 UK, commented: "The third generation Jazz is a car that already gives its owners a feeling of warmth and wellbeing. But colours such as Sunset Orange and Attract Yellow Pearl add more than just character. They're statistically safer, much more visible on darker days. And they help lift the moods of everyone around them – another part of the Drive Happy culture that defines Jazz's DNA."