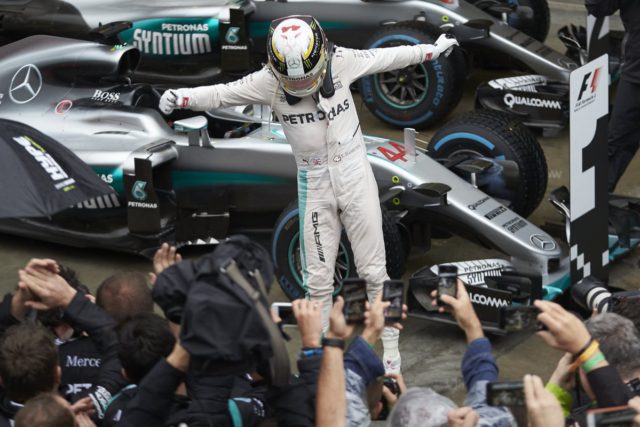 Lewis Hamilton save his title hopes alive with a win in the Brazilian Grand Prix. In very wet conditions, the Mercedes driver was faultless and beat his teammate and championship leader Nico Rosberg. The gap between them is now 12 points. This means that the German needs to finish only 3rd in Abu Dabi, to clinch fist F1 title.
Max Verstappen in a Red Bull finished third. He made a fantastic final 15 laps with fresh sets of wet tyres, progressing form 16th to 3rd. Sergio Perez was 4th, ahead of Sebastian Vettel in a Ferrari. Carlos Sainz managed to handle 6th. He is in front of Hulkenberg and Ricciardo.
For me, I was generally just chilling up front, Hamilton said. – When it rains its usually a good day for me. It was tricky for everyone, definitely opportunities for aquaplaning, which everyone did. It was probably one of the easier victories, it was a very easy race generally; usually in the rain here it's the hardest, but I didn't have any spins, didn't have any moments. It was pretty straightforward; Silverstone 2008 was way harder than this.
Of course it didn't go my way with the win, Lewis just did a great job, Rosberg explained. – But there were very difficult conditions out there, so I can live with second today." Rosberg added that he felt Race Control judged the situation with the red flags correctly: "It was on the limit but in the end, they got it right, they did a good job judging it, but it was quite a fine line out there."
"I think we were in quite a safe position in second. But sometimes you have to gamble a little bit – that is what we tried today. We got some great overtakes so I am very happy, of course, Verstappen said. – With the red flag, when we restarted again, the track was worse than before. I had good pace and a good fight with Nico in Turn 3, tried to follow Lewis a bit and had a massive moment, lucky to not crash the car. I got call to box, we did a pitstop, then it started to rain, and last sector was undriveable on inters.
Final timing screen from today's #BrazilGP pic.twitter.com/i37FSynFNb

— Renault Sport F1 (@RenaultSportF1) November 13, 2016