Honda's Mean Mower V2 has been put to work by the Duke of Richmond and Gordon to help prepare for the Goodwood Festival of Speed presented by MasterCard.
Before the Mean Mower sets off to reclaim the world land speed record for a lawnmower later this year, it had another task. The Duke tasked it with cutting the grass of his famous estate.
With the Festival grounds prepped, the Mean Mower V2 will make its live public debut up the famous hill on Thursday, 12 July
Experienced racing and stunt driver Jess Hawkins, currently appearing in Fast & Furious Live, will be at the wheel as it undergoes final preparations before its world record run.
The original Mean Mower broke the world lawnmower speed record in 2014 hitting 116.575mph but that's since been surpassed.
The new model is estimated to be capable of 150mph. That is possible thanks to its 999cc four-cylinder engine. The engine is from a CBR1000RR Fireblade delivering 189bhp – double the power of the original.
Honda is celebrating 40 years of making lawnmowers. The Mean Mower V2 is the work of Team Dynamics. They are the developers behind the original Mean Mower and Honda's British Touring Car Championship partner.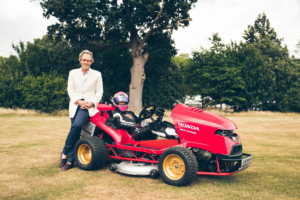 Based on the Honda HF 2622 lawn tractor, it has been re-engineered
Honda used CAD design, more bespoke parts, advanced lightweight materials and 3D printing.
The Duke of Richmond and Gordon, founder of the Goodwood Festival of Speed, said:
"The Honda Mean Mower V2 is a serious bit of kit and it will be really exciting to see it burning up the Goodwood Hillclimb."
Dave Hodgetts, Managing Director at Honda UK, added:
"We are very excited to be bringing Mean Mower V2 to the Festival of Speed this year. And we cannot wait to see it take on the Hillclimb.
"The original Mean Mower was a great challenge for us and the result was an amazing machine. This time we have moved the game on considerably to build an incredible piece of real engineering, using advanced design and production techniques and calling upon some very clever thinking to bring the performance and power but still retain the look of the production mower."
The Festival is famous for attracting the rarest and most exciting road and race cars and bikes ever created. The 2018 running of the event will be no different. It marks its Silver Jubilee as it has taken place every summer since 1993.
The FoS Future Lab will also be open again this year. Its focus will be on space exploration, autonomous transport, robotics and personal flight. Visitors will be able to view displays and demonstrations. They will also be able to interact with some of the technology for themselves as well as learn more about these exciting innovations.