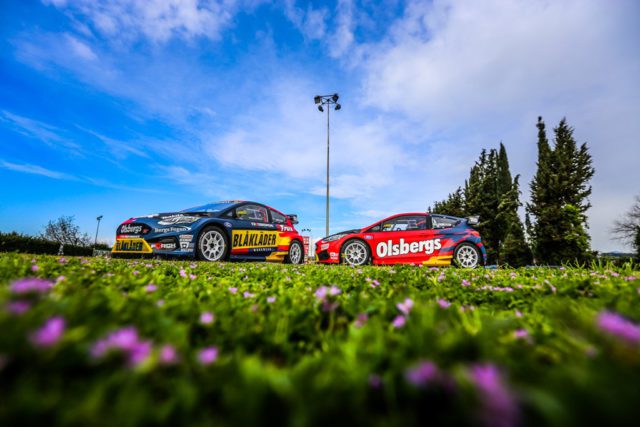 Olsbergs MSE unveiled the groundbreaking new Ford Fiesta ST Supercar. The team hopes it will carry Kevin Eriksson and Robin Larsson to the top in this year's FIA World Rallycross Championship.
Swedish rallycross specialist OMSE is making a full-time return to World RX in 2018. The winter off-season witnessed months of tireless design and development at the team's Nynäshamn workshop south of Stockholm.
The team worked in collaboration with Ford Performance. The new Fiesta ST appeared entirely from the ground up. And it benefited from the years of rallycross experience that OMSE has gained through its raft of successful motorsport programmes worldwide.
Hello Guys! We are back on start grid! ❤️ #OMSE #xforces #WorldRX pic.twitter.com/4cz0zuzUEP

— olsbergsmse (@olsbergsmse) April 12, 2018
Aside from the 2018 Ford Fiesta ST platform, notable innovations include a totally new suspension configuration and aero package along with the very latest-specification Olsbergs MSE powerplant
When Eriksson and Larsson take to the track in Barcelona, it will represent the very first competitive outing for the new Fiesta ST anywhere in the world. Both men are eager to mark the momentous occasion by bringing home a solid result.
"As soon as I drove this car, I could tell it was a step forward," remarked Eriksson, who won in Germany in 2016 following a spectacular first corner overtake. "There has been plenty of midnight oil burned back at the factory these past few months. And everybody involved deserves a huge pat on the back for making this happen. Pre-season testing has been promising, and this is only the start. Once we find the 'sweet spot' with this car, it's going to fly!"
"I'm so excited to be returning to World RX this year. And even more so to be coming back with such an awesome car," added 2014 FIA European Rallycross Champion Robin Larsson, who has twice been a finalist in Barcelona. "The new Fiesta ST is an incredible piece of kit. Although it is still evidently very early days, the potential is huge – so bring it on!"
World RX is the pinnacle of international rallycross competition.
But OMSE founder and Team Principal Andreas Eriksson is keen to demonstrate that it is possible to reach the top without spending a small fortune
"For us, it was very important that if we were to return to World RX full-time. It had to be in the right circumstances. And with a very real chance of achieving success on a sensible budget," he asserted. "Every time we enter a series, it is with the expectation of being competitive and fighting for victory. And we are confident that in the 2018 Fiesta ST, we have the car to do just that."
"Every element of the Fiesta ST has been enhanced in some way, and the results of those improvements will hopefully be seen on the track and against the stopwatch. We are very much looking forward to getting the forthcoming season underway."
"Rallycross fits our brand like a glove," added Kalle Larsson, Global Marketing Manager at Blåkläder. "It combines speed, action and fast cars in tough environments. For this reason, we are really proud to once again be a sponsor of Robin Larsson and his Swedish team in the FIA World Rallycross Championship in 2018. The fact that Robin was born and raised in Svenljunga makes it even more exciting."
#TVtime here at @CatalunyaRX @FIAWorldRX for our Drivers @Erikssonkev and @Robinlarsson_4 #omse #xforces #WorldRX pic.twitter.com/Gh0uXlTLnt

— olsbergsmse (@olsbergsmse) April 13, 2018