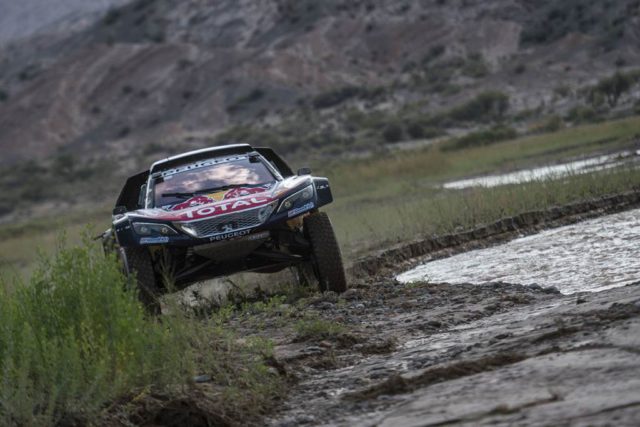 Safety concerns, unfortunately, ruled out any racing for the bike and quad riders on the second marathon stage of the 2018 Dakar Rally.
The cars and trucks got stuck into the route though and a classic duel developed between two race legends in Nasser Al-Attiyah and Stéphane Peterhansel.
Tomorrow (Friday) is the penultimate day of racing with the remaining competitors finally reaching the end destination of Córdoba. Stage 13 is the last big opportunity to win back a major chunk of time, so expect fireworks.
Car
With the number of stages left decreasing every day time is running out for Stéphane Peterhansel and Nasser Al-Attiyah, and they know it.
The two former winners caught up with Bernhard ten Brinke and then fought it out for the stage victory. The lead changed hands numerous times but it was the Qatari who prevailed despite two flat tyres for a third stage win of 2018.
Race leader Carlos Sainz took the sensible approach of driving cautiously to the finish and letting the battle commence in front of him. The Spaniard lost 18 minutes but still holds a 44-minute overall lead.
Al-Attiyah said: "We tried to push to at least save third place overall. I am quite happy to finish with another win, it feels good."
.@AlAttiyahN wins ? stage 12 of the #Dakar2018… and he still thinks about the GC. #Dakar40th #DakarArgentina ?? pic.twitter.com/MuoBaFXMFm

— DAKAR RALLY (@dakar) January 18, 2018
? GC – CARS??
1. @CSainz_oficial
2. @s_peterhansel +44'41"
3. @AlAttiyahN +1h05'55"#Dakar2018 #DakarArgentina
More / más info > https://t.co/R0ezQ07YE0 pic.twitter.com/ZZcQopoReW

— DAKAR RALLY (@dakar) January 18, 2018
Bike & Quad
Due to weather concerns along the route, Dakar Rally organisers took the decision to cancel the 375km marathon stage for the riders in the bike and quad categories.
Competitors will make their way to San Juan and begin racing again on Friday. Matthias Walkner in the bikes and Ignacio Casale in the quads protect comfortable leads.