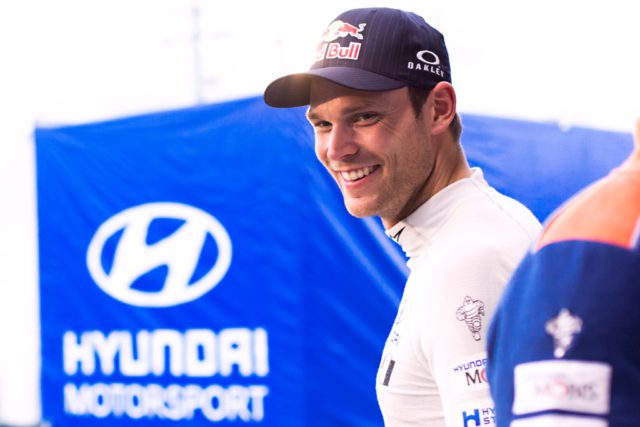 Andreas Mikkelsen and his compatriot co-driver Anders Jæger completed their third rally with Hyundai Motorsport under Rally 2 regulations after their retirement from the lead on Saturday morning. The Norwegians dominated the first day of Rally Australia.
"About two kilometres after the start of the Newry stage, on a right-hander over a crest, I went wide and touched the bank quite hard", Mikkelsen explained.
"I thought I had only a rear puncture but it became quickly apparent that we had one at the front too. With only one spare in the car, it was game over. Nine times out of ten we would have been OK, but luck was not on our side."
Despite the misfortune, Mikkelsen and Jæger have shown encouraging potential with Hyundai Motorsport in the last three rallies
The events allowed the Norwegian pairing to settle into their new surroundings and prepare for a full season campaign in 2018.
"It was disappointing that we were forced to retire from the lead of this rally on Saturday morning. Having said that, looking at the conditions we had to face on Sunday morning, it would have been a challenge to defend that", Mikkelsen added.
"We were unlucky with the rain in the earlier stages. Even with the wipers on maximum, we couldn't see anything. Still, at least we had a clean finish in the Power Stage and could bring the car home."
"Whatever the result that weekend, we have shown good pace. It has been a very valuable experience over the past three rallies with Hyundai Motorsport. I know I am in the right place for next season. The car is awesome and the team is fantastic. Let's keep our fingers crossed for a strong championship challenge together next year."