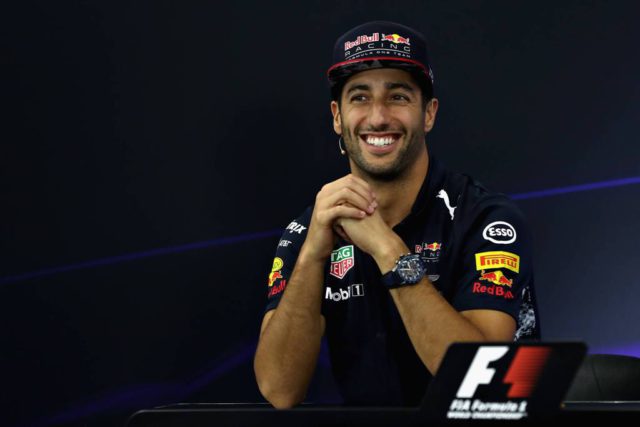 Daniel Ricciardo is definitely having fun in Japan where this weekend he will participate in the Formula 1 Japanese Grand prix. He finally managed to go to a famous sushi restaurant and with Felipe Massa, as it turned out.
"A more positive experience in the last few days, was actually with this man here We went to the famous sushi… I'm going to get it wrong now, Sukiyabashi Jiro, and it kind of became more on the map to let's say the western world after there was a documentary 'Jiro Dreams of Sushi' and I was told about it a couple years ago and I was like 'oh, we'll just call and get a reservation for tomorrow night', but you've got to book like a year in advance, so two years later we finally made it. It was a good experience", the Red Bull driver explained.
"It was good to see his face when some fish that he is not really keen to have…", Massa quipped.
Then Ricciardo pointed out that he actually started eating seafood a few years ago.
"I like some of it, but some are still new to me, but you don't want to disrespect. There was some different stuff, but anyway, it was a good experience for sure. And you're in and out in 30 minutes, so it's bang, bang, bang, but it was good. I did some Kendo as well, a Japanese martial art. That was quite cool and I enjoyed that. So two good experiences this week."
As for the situation on track, Ricciardo said that Red Bull has to be one of the best chassis in F1, considering its results
"If it's not [the best], then we're certainly close, and a lot closer than we were in the first handful of races this year. Like Monza, you surprise yourself on Sunday but then in Singapore, Seb [Vettel] puts a few tenths on us in quali. So you're like 'we do and we don't, we do and we don't'. Obviously, in Malaysia we were quick. If Ferrari has started at the front they would have been tough to beat. But we're certainly close. If we're not the best, we're certainly close and I think this circuit is another chance for us to show that and I'm looking forward to it very much", Ricciardo commented.
He also explained that there are still no discussions with Red Bull for a new contract. Ricciardo's current agreement is until the end of 2018.
Kendo practice with @redbulljapan. Great little experience pic.twitter.com/GVR3R1R4bv

— Daniel Ricciardo (@danielricciardo) October 5, 2017