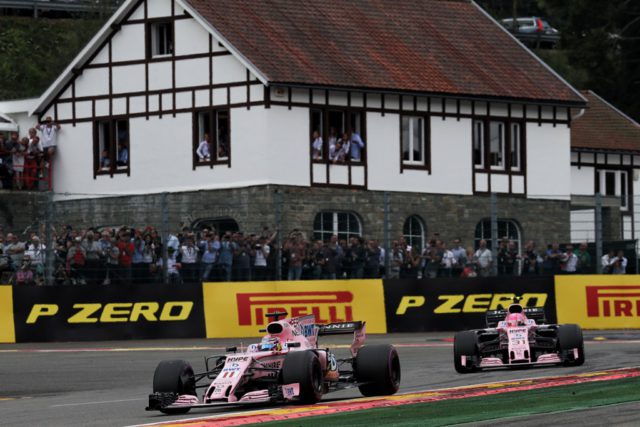 The Force India drivers Sergio Perez and Esteban Ocon already know their team's new politics in case of another clash between them, team principal Vijay Mallya said. The Silverstone squad will implement team orders to prevent incidents like the ones in Baku and at Spa.
"It's hard to look back on the race at Spa, knowing we had the pace to score a lot of points, and came away with only two", Malya commented.
"At least we are back on track this weekend and we get an immediate chance to put the disappointment behind us. Monza is another quick track on which we expect to do well: like in Baku and Montreal, the layout of the track should play to our strengths. At this stage of the season, it's crucial we make the most of every opportunity to score points. We have made both drivers aware of the new team policy designed to prevent incidents like the ones in Spa from reoccurring. As a team, we have a responsibility to defend our position and I am sure we will finish the season without any further issues. We have been competitive on every track so far and we intend to continue our strong season with another good performance in Monza."
Sergio Perez:
"I love Italy and I love Monza! It's one of my favourite weekends of the season and the tifosi are amazing – they make such a special atmosphere. All the passion you feel throughout the weekend is very special. Also the track is great – you get to experience truly high speeds; you arrive very fast into the corners, with very low downforce, and it's going to be very interesting in these 2017 cars.
"In many ways Italy is quite similar to the Mexico race in terms of the atmosphere and passion of the fans at the circuit. I've had some special days in Monza too, when I finished on the podium in 2012 and beat both the Ferraris. I guess that wasn't great for the tifosi but I still received a lot of support when I was standing on the podium."
Esteban Ocon:
"I always have special emotions when I visit Monza as I used to live in Italy and raced with an Italian team in my junior career so I know the country really well. I also speak Italian and I enjoy Italian food too!"
"It's one of the classic Formula One tracks. My favourite parts of the lap are the two Lesmo curves and the Ascari chicane. These are the corners that can make or break your lap. The combination of corners through Ascari feels very nice in a Formula One car."
"The atmosphere in Monza is always special. The Italian fans give so much support to all the drivers and you feel their energy. There is so much history and tradition in the country linked to Motorsport and you get to appreciate this in Monza."
Spa incident. pic.twitter.com/3wKf8aVfKL

— Esteban Ocon (@OconEsteban) August 28, 2017