An historic and momentous victory – that is how M-Sport defined Ott Tanak and Martin Järveoja's success at ADAC Rallye Deutschland. The Estonians powered their Ecoboost-powered Ford Fiesta WRC to the team's first ever win on German soil. Team principal Malcolm Wilson pointed out before the race that M-Sport has a real chance in 2017 to take that elusive win and Tanak proved him right.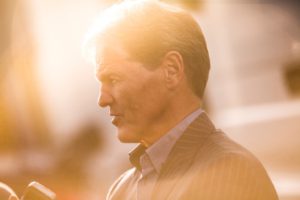 "Everyone in the team is extremely happy as you can imagine. After all the work that went on behind the scenes, we knew that we could challenge for a strong result but never dreamt of achieving anything quite like this", Malcolm Wilson commented.
"All of the guys have done a fantastic job and I couldn't ask for more. Ott has taken the win in WRC, Éric [Camilli] in WRC 2 and Julius Tannert in WRC 3 so it really doesn't get much better than that."
"Up until now, this was the only rally on the calendar that we were yet to win, and now we have finally ticked all the boxes."
"It was also a really important result for the championship with increased leads in both the manufacturer and the driver standings."
"There might only be three events left, but we can't let it slip now. As we've seen, anything can happen so we need to keep fighting and that is exactly what we intend to do."
Malcolm Wilson: "We never dreamt of achieving anything quite like this"
"What can I say, this has been a very tricky rally and there were a lot of other favourites. But we just did everything right. We've won on Tarmac and we know we can win on gravel. So now there's no reason why we shouldn't be challenging for victory everywhere", Tanak added.
"The car really has been fantastic all weekend. I was able to take a lot of confidence from that and when the conditions were a bit more consistent it really was just so enjoyable to drive."
"It's been a great weekend and I think we made the difference on Friday. It was a really clean run. And we were very brave on the tyre choices which turned out to be a good call. After that it was just a case of controlling the lead.
"Another win feels good. With three events to go, I don't see why we shouldn't be looking to the guys ahead and to the championship lead ourselves. If you want to fight for the championship you have to keep winning. And that is what we plan to do."
Fantastic result as @OttTanak and @MartinJarveoja win @ADACRallye Deutschland! #WRC #ADACRallye pic.twitter.com/yApawMP8zl

— M-Sport (@MSportLtd) August 20, 2017