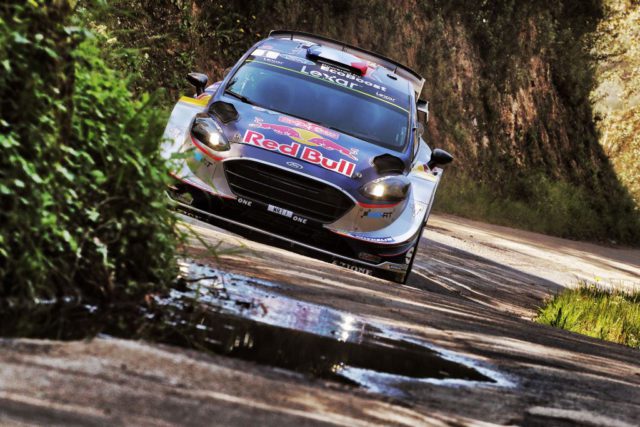 Since 1997, M-Sport has secured victory on all events bare one – ADAC Rallye Deutschland. This year, the team have their best chance yet of putting the history books to rights and Team Principal Malcolm Wilson is intent on challenging for that goal.
"Rallye Deutschland hasn't been so kind to us in the past. It's the only event that we are yet to win, but this year we have our best chance of putting that right", Malcolm Wilson said
"All three of our drivers have enjoyed success in Germany over the years, and Sébastien Ogier knows what it takes to succeed having won the event on three separate occasions. We feel that we have a good package for Tarmac and we have been building on that during our pre-event testing."
"The competition will be extremely strong and I expect a hard-fought battle. The great thing about this year's championship is that it's anybody's game – but we aim to be in the fight and hope to come out on top."
Sébastien Ogier and Julien Ingrassia know what it takes to win at Rallye Deutschland
The Frenchmen have three victories to their name and will be looking to challenge for M-Sport's first victory on German soil.
Currently tied on points with Thierry Neuville at the head of the drivers' standings, Ogier is focused on getting his championship defence back on track and will be a favourite for the top results.
"Every year I look forward to Rallye Deutschland, and this year's event will be really exciting with the championship battle so close", he said.
"Naturally, we aim to deliver our best and get our championship defence back on track."
"It's always nice to return to asphalt and the German fixture presents some of the most challenging sealed-surface roads on the calendar. It's a difficult rally and you have to find the right mind-set – and the right set-up – for the many different characteristics."
"In the wet, it's even trickier and mistakes are very rarely forgiven. It's important to work closely with the route note crew so as to prepare for everything the stages have to offer."
"This year, there are also a number of new speed tests which will make things even more interesting. The Fiesta has behaved very well on asphalt this year so Julien and I are really looking forward to the challenge."
Ott Tänak will be keen to rekindle the taste of German champagne
The Estonian won the S-WRC category in 2011 – a result which helped prompt his promotion to the works team for a one-off drive at that year's Rallye du Var. Since then, Tarmac has not been his preferred surface but he should not be discounted for a strong result – especially considering his pace at the previous asphalt outings this year.
"The fast gravel events might be my favourite, but I'm looking forward to another asphalt challenge", Tänak commented.
"Considering our pace in Monte Carlo and Corsica, it will be interesting to see what we can do and we have no reason not to be hopeful of a strong result."
"This is definitely one of my favourite asphalt events. Each stage is different and it's a real test of how quickly you can adapt to the changing conditions. The weather in this region can also be quite unsettled so it's important to have the most up-to-date information from the stages – working closely with the route note and weather crews."
Rallye Deutschland is one of Elfyn Evans most successful events
As the Welshman made his way through the rallying ranks, the German fixture delivered much success and he secured his maiden stage victory through the Rallye Deutschland Power Stage in 2014.
Following an impressive drive to second place at last month's Rally Finland, Evans will be keen to keep the momentum going and challenge for another top result next week.
"Rallye Deutschland is one of my favourite events on the calendar, and an event where I have enjoyed a lot of success over the years. It's a challenge, but I think that's one of the reasons why I enjoy it so much", he explained.
"There are a number of different surfaces and stage characteristics and it's all about finding the right rhythm and set-up for each variation. You really do have to be fully focused and at the top of your game – one wrong move, one lapse in concentration, and you don't get a second chance."
"The weather can also play a crucial part and a wet rally could make things really interesting – another factor to consider as we make your way through the demanding stages; many of which we'll be experiencing for the first time."
Great to be back on tarmac for our Germany test today. Trying out some new @DMACK_Tyres #WRC @MSportLtd https://t.co/x0ZF2NWhR2

— Elfyn Evans (@ElfynEvans) August 9, 2017