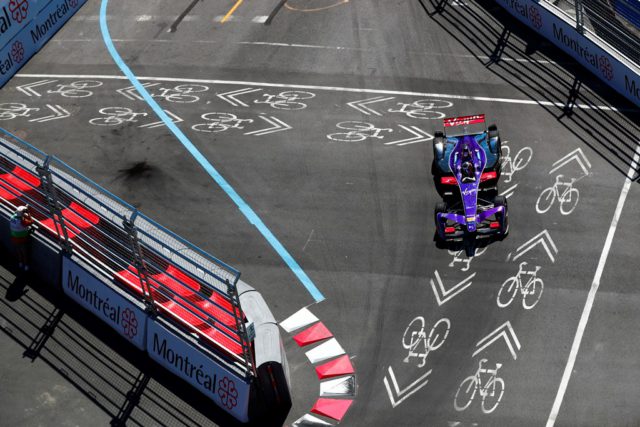 DS Virgin Racing's Jose Maria Lopez secured his second podium of the season during the Formula E season finale in Montreal, with teammate Sam Bird finishing fourth to secure the team fourth place overall in the constructors' championship. The result caps off the most successful season for the British team in terms of silverware, with an impressive six podiums and two wins, together with two pole positions and two fastest laps.
As the 37-lap race started, Bird lost out heading into the first corner to lie third with Lopez quickly moving up the field to lie sixth. Bird then made contact with the wall at Turn 3, damaging his steering and compromising both his handling and energy consumption during his first stint. Despite this, he was able to keep pushing and remarkably only lost one further place before pitting on lap 17, with Lopez stopping soon after and the two running third and fourth after the pit stop shuffle.
In the closing stages, race-leader and rival Rosenqvist had dropped to second and into the clutches of Bird but with less usable energy, he was unable to maintain the pressure which allowed Lopez to get ahead. Lopez pushed until the chequered flag but was unable to get the better of Rosenqvist to cross the line third, one place ahead of his team-mate.
"I'm really pleased with the result, especially after what happened in race one, and to finish the season this way," said Lopez
"I could tell straightaway what a difference the team had made to the car since my last race and it was frustrating our qualifying group meant we were unable to show this. Nevertheless, I enjoyed the race and of course the whole season, as well as working with the DS Virgin Racing team."
Bird added:
"It's been a great final race of the season. Unfortunately, I clipped the wall in the first stint and compromised my car so we were always on the back foot and didn't quite get the result we wanted – despite pushing all the way! I want to thank my team for everything and for achieving such a strong end to the year, and also to congratulate Jose."
DS Virigin Racing Team Principal Alex Tai commented:
"My congratulations go to Jose for his superb podium and his success in his debut season. Also to Sam for his amazing performance over the past 12 races – not to mention his double win in New York – and of course the whole team for their incredible hardwork. Our achievements wouldn't be possible without such a dedicated team, together with our partners, and we're looking forward to continuing this momentum into season four."
That's it for #FormulaE season 3! Thank you to all our fans & partners – you've been amazing! Just 125 days to go until season 4 starts! pic.twitter.com/D1yWljMoLv

— DS Virgin Racing (@DSVirginRacing) July 31, 2017
DS Performance Director Xavier Mestelan Pinon added:
"It was great to end DS Performance's second Formula E season with a podium, and to add to our tally this season. Throughout the season, the team has developed the performance of the DSV-02, which has allowed us to fight at the top regularly and I'd like to thank the whole DS Virgin Racing team, to Total and our partners for this. This season has also been rich in terms of technological breakthroughs for us as well as brand awareness across the globe."