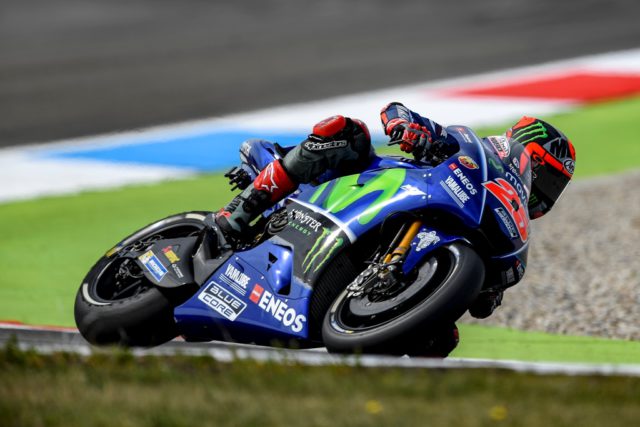 Yamaha MotoGP Team's Maverick Viñales and Valentino Rossi started their quest at the 'Cathedral' with a full-on schedule for the Friday. Their first day at the TT Assen Circuit was filled with preparing their bikes' set-up and tyre allocation as well as trying the updated frame, and their hard work paid off. They booked solid progress, setting the first and sixth fastest time of the day respectively.
Viñales had to show some patience in the FP1, as it was red flagged just three minutes into the session due to track conditions. Once the lights in pit lane turned green again at 10:29 local circuit time, the Spaniard headed out to get his Assen challenge well underway. He started his morning outing by comparing the updated frame to the original version before getting serious with his bike's setting. He soon found a good rhythm as he completed three five-lap stints on the Dutch circuit.
The youngster continued with a strong impression in the afternoon, setting the provisional fastest lap on his third attempt, and began to fine-tune his YZR-M1 to accommodate the Dutch circuit. He diligently worked on comparing the tyres, before he turned up the heat a notch on his final run. He ended the session posting multiple 1:33s laps to top the FP2 and combined timesheets with a 1:33.130min and a 0.367s gap to his closest rival.
"I feel good, this is a track I like", Maverick Viñales said
"Today's sessions were good. We wanted to compare the tyres and do many laps, especially on the soft to see if they are good to last the whole race. Whether they have good potential I don't know yet, we have to see tomorrow. We will see in FP4 when we're going to be more hot, which spec will be a good tyre for the race", Maverick Viñales said.
"I feel good, this is a track I like. The bike is working good and already from this morning, we had a good set-up for this afternoon. We gained a lot of good information for tomorrow, especially for qualifying. We are trying and discussing the chassis, but as I always say: when we have grip, the bike is really nice to ride. Today it was easy to ride and control, and it was nice to feel good again."
— Yamaha MotoGP (@YamahaMotoGP) June 23, 2017
Jonas Folger was second in FP2
"Today we can be really pleased with the job that we did especially after the tricky start", he explained. "This morning, I fell after completing only a few corners because I hit the patch of oil from [Andrea] Dovizioso's bike, which caused me to have a high side. This accident made me a bit nervous about losing my rhythm and my confidence."
"However, this was not the case when I went back out on the track and even if it took me a while to learn this circuit on the MotoGP bike, I understood the changes well and we made a good step forward. My riding and the direction that we took on the M1 enabled us to achieve a solid lap time, plus we were consistent. So overall, the team and I have finished the day in second, and we must be very happy about what we have accomplished."
Third in the standings was Honda's Marc Marquez
He pointed out the conditions were tricky but he was happy enough with how things went.
"This morning we worked a bit more for the race pace, while in the afternoon when a few drops started to fall, we almost immediately went for a time attack. In the end, we did quite a good session, but our rivals are still a bit ahead of us. Anyway, I think we're working in the right direction with the bike setup. And we just have to continue in this way", Marquez added.
"With the wind, conditions were quite tricky today, but ultimately I'm happy enough with how it went". #MM93 pic.twitter.com/0poIQBPUU6

— Repsol Honda Team (@HRC_MotoGP) June 23, 2017
🏁 #MotoGP FP2

Leader of the pack: #MV25 back on top at the #DutchGP!

REPORT 📰 https://t.co/iXRHM5fUOs pic.twitter.com/Yne6IoXiYL

— MotoGP™🇳🇱🏁 (@MotoGP) June 23, 2017