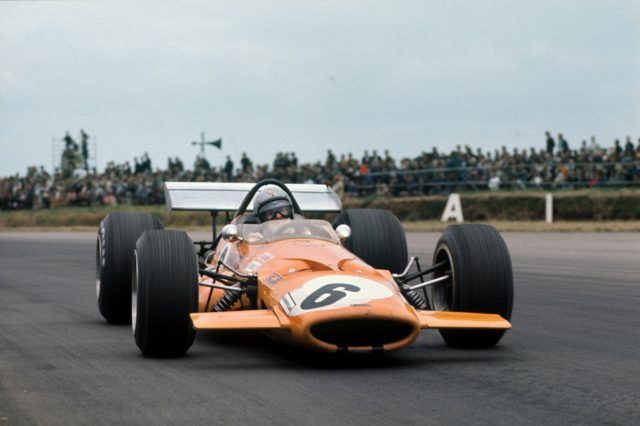 Next month's Silverstone Classic (28-30 July) will pay special tribute to racing legend Bruce McLaren – one of the greatest names in motorsport history.
The New Zealander won Le Mans, two Can-Am titles and four Grands Prix. He tragically lost his life aged just 32 in an accident when testing a sports car at Goodwood in 1970. But it is as a racing car constructor that he is best remembered – and where the McLaren name lives on.
The history books show that the team he founded won no fewer than 20 F1 World Championships – 12 for drivers, eight for constructors. McLaren cars have also won Le Mans and the Indy 500.
Today's company is also a prolific maker of GT road cars. The McLaren Owners Group organised what will be the largest-ever gathering of McLaren road cars in the same place at the same time.
The initial plan was to gather together 80 McLaren road cars, to include cars from the 1992 F1 via the P1 hypercar through to the latest 570GT. But the event has proved so popular that, to date, 117 cars have registered.
And leading the parade (scheduled for Sunday 30 July) will be another McLaren in a McLaren – Bruce's daughter Amanda, his only child, who was just four years old when he lost his life. Today, Amanda is a McLaren Brand Ambassador.
Amanda McLaren said: "I am very excited to be attending the McLaren Owner Group's national event at the Silverstone Classic, celebrating what would have been my father's 80th year"
"His dream to build road cars began with his prototype M6GT and has now been realised by the cars McLaren Automotive is producing. I am looking forward to seeing so many of these cars in one place, knowing how proud my father would have been."
Jeff Vaudrey, the administrator of the McLaren Owners Group, said: "Since our inception 18 months ago, the McLaren Owners Group has grown rapidly with more than 250 members across the UK. Many of them will be joining us for the largest-ever gathering of McLaren road cars in one place."
The McLaren parade is the latest in a long line of record-breaking one-make or one model parades at the annual festival. This year on Saturday Jaguar will celebrate the 25th anniversary of the remarkable XJ220.
Previous parades include another 25th birthday tribute to the incredible Ferrari F40 back in 2012. Then 60 cars circulated the Grand Prix circuit. In 2011, 767 Jaguar E-types celebrated the model's 50th anniversary. Two years later an incredible 1,208 Porsche 911s took to the circuit, marking another 50th birthday.
These magnificent track pageants are just one aspect of the Silverstone Classic weekend. Track action will see more than 20 races and demonstrations with entries from more than 1,000 historic racing cars. These include F1 cars of all eras, sports and GT cars from the 1950s and 1960s, Group C Le Mans racers. There also are pre-war sports cars, touring cars and GP Bike Legends.
Other action includes air shows, classic car auctions, displays from over 120 car clubs, a vintage fun fair and a shopping village and much more
The 'rocking and racing' weekend also includes live concerts. Tribute acts include The Bootleg Beatles, Who's Next and Are You Experienced? playing the music of the Beatles, the Who and Jimi Hendrix on Friday evening. Tony Hadley, formerly of Spandau Ballet fame, will be headlining on Saturday with a performance from The Dire Straits Experience, too.