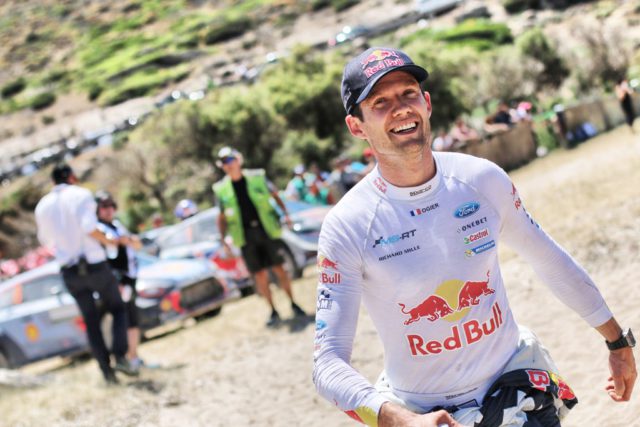 Sebastien Ogier does not want a repeat of last season's end when suddenly he had no team and frantically searched for a place. Thus the quadruple world rally champion already started his quest for 2018. He publically stated that his future at M-Sport will depend on whether Malcolm Wilson will be able to get full support from Ford for his program.
For the moment Ogier is leading the WRC overall standings. He has two victories in seven rounds and is consistently taking points. His primary concern for M-Sport is that the Cumbria-based team might not be able to keep up the development pace on a par with the manufacturer entries. Every new part costs money. The driver himself pointed out after Rally Portugal that he had a new car twice this year and won both races – Monte Carlo and Portugal. "I'm not sure if the team can afford to give me a new car for every rally!", quipped the Frenchman.
"I am thinking about next year now and it's no secret that I want to continue in good conditions. I don't say that, right now, the conditions are not good, but I know on the long-term M-Sport alone won't have the resource to continue fighting against the factory teams", Ogier told Motorsport News later.
"But, at the same time, I like stability and I would love for Ford to finally agree to support us and that we could carry on together. If Ford comes I think I would stay."
Ogier added that he already started working on other options, as he cannot wait until October-November like in 2016.
Sebastien Ogier does not want a repeat of last season's end when suddenly he had no team and frantically searched for a place
And while the quadruple world champion is lobbying for a manufacturer team, Malcolm Wilson does what he can to keep him. The British manager wants Ogier to stay but is aware this would not happen without a guarantee – a title sponsor or a new Ford team.
"I can understand where Sebastien is coming from and that's why we're working flat-out to try to make it happen. The ability to keep Seb can come one of two ways. We either find a backer and that's why we are pushing like hell to find a title sponsor for the team. Or it comes from Ford coming back with us and I think we have an awful lot to offer right now", Wilson explained to Motorsport News.
He also said that M-Sport has put a lot on the line this year and continued: "We appreciate the technical support and long-standing relationship with Ford, however, to do it again under the same circumstances would be financially irresponsible for the future of M-Sport."
M-Sport's performance is really remarkable until now in the 2017 championship. The team has most wins – three (with Ott Tanak's victory in Sardinia) to Hyundai's two. (Toyota and Citroen have one win each.) Both crews are constantly in the top 5, while the team has 40 points lead in the manufacturers' overall standings. The very presence of Ogier gives M-Sport something that was missing for some time during Ford's previous encounter in the WRC: a reliable, proven winner.
Besides, the economic environment is better than it was when Ford pulled out the last time – in 2012.
The last Ford WRC team won two constructors titles (in 2006 and 2007) and was 10 times vice-champion. The present M-Sport configuration with Ogier has a much bigger potential.