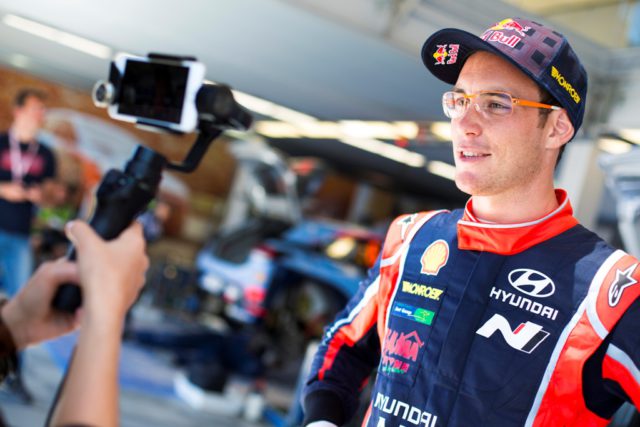 As Italy's round of the World Rally Championship got underway in Sardinia, the battle between four-time champion Sebastien Ogier and the pretender to his throne Thierry Neuville resumes, with the duo separated by just 22 points.
Former F1 and Le Mans driver Mark Webber is Red Bull TV guest reporter for the second time this year. And Mark knows better than most what it takes to go against a four-time champion called Seb. He was teammates with Sebastian Vettel in Formula 1 for five seasons with Red Bull Racing. In that time, he took nine race wins.
So how does Mark see the epic battle between the two WRC protagonists going down this year? The M-Sport driver and Hyundai driver took two wins each so far. On the last round in Portugal, it was the four-time champ Ogier who triumphed – and his stated objective in Italy is to leave Sardinia with an extended lead in the title race. So what do you do if you're the underdog?
"If I were Thierry, I would try not to be playing Sebastien on his reputation," says Mark. "I know it's hard, but Thierry's just got to drive what's in front of him: not worry about anything else. Work his absolute socks off with the team. And there might come a point later in the year where his team-mates can help to a degree in terms of sweeping and other stuff, who knows."
Both drivers have an epic fight on their hands: but at least they're not on the same team, so can count on their teammates for support. Possibly…
"For Thierry, it's probably the first time that he's been engaged in a title battle like this," adds Mark. "It's great for his confidence but there's still a few unchartered waters. Seb Ogier has been in these scenarios before, up against Sebastien Loeb and leading the last four championships. He's been in some pretty handy fights and he's got a pretty handy trophy cabinet."
But there's no need for Neuville to dwell on how long it takes Ogier to polish the trophies for his 40 wins and 61 podiums to date – the Belgian, for now, has four wins and 23 podiums to his name. According to Mark, the best thing to do is block it all out. Only then can you achieve the mental focus to take the championship fight all the way to the end game.
"Pull it down, keep it as simple as you can mentally, execute the rallies one by one as best you can. Don't put Seb on a pedestal," is Mark's advice to Thierry. "Yes, he's had a few missed opportunities this year, but you've got to go through adversity to get the experience. There have been mistakes, but the exciting thing about mistakes is that they're an opportunity to out together beautiful and clean rallies in the future through the experience gained."
Ogier too hasn't had an entirely flawless season up to now
"Seb and M-Sport have had some points they missed; some reliability problems that meant they couldn't maximize everything and things weren't looking too pretty three months in. But they've got less of a juggernaut to steer without the external pressure of a manufacturer being involved and probably fewer politics. So, tit for tat," Mark concludes. "It's still anyone's to win really."
And that's been the whole story of one of the closest seasons ever so far, with an average winning margin of just over 22 seconds on each rally so far (leaving aside the notoriously fickle Rally Monte Carlo).
.@thierryneuville @nicolasgilsoul Shakedown @Rally_d_Italia #RallyItaliaSardegna #WRC #Jumpinginthedust pic.twitter.com/E1hNcIiuxJ

— Paolo (@cicles7) June 8, 2017