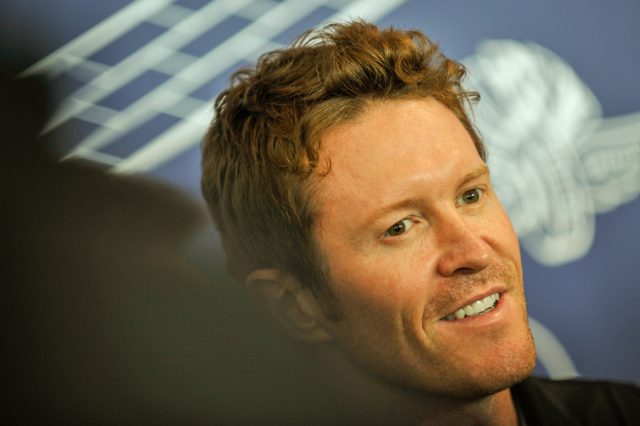 Scott Dixon will be the subject of a feature-length documentary. The 36-year-old Australian driver won the pole for Sunday's Indy 500. He is also the 2008 winner of the race for Chip Ganassi Racing.
The documentary will focus on Dixon's dedication, success and will to defy personal limitations in his racing career. It is scheduled for release in 2018.
Dixon has 40 career Indy car wins, fourth on the all-time list. He is also a four-time IndyCar Series champion
#carbday in the books! #campingworld car feels strong 💪🏻 bring on Sunday #indy500 #indycar #indy #ims #cantstop #oakley pic.twitter.com/2OiHbvoDvl

— Scott Dixon (@scottdixon9) May 26, 2017
"To see his name near the top of the all-time winners' list is a testament to the man," team owner Chip Ganassi commented. "Someone needs to know that story. I think we're very fortunate to have the people interested in making this a documentary."
Filming will take place at the Indianapolis 500 and other IndyCar Series events. Dixon is also part of CGR's successful sports car program. So the film crew will follow him there as well, including the legendary 24 Hours of Le Mans.
"I feel very fortunate," Dixon said. "I'm very passionate about racing, I love driving cars, I love racing and I love racing with the best team in the world. I'm lucky enough to do Indianapolis 500s, IndyCar races, going to Le Mans."
"I think the story with what we do and how we do it, and a lot of people don't get to see behind the scenes with big races like the Indianapolis 500 and Le Mans. It's going to be really cool. I feel very proud and very special to be a part of it."
Fun Fact: Indy 500 pole made @scottdixon9 points leader. 1st time @GanassiChip has led both #IndyCar & #NASCAR at same time @KyleLarsonRacin

— Jenna Fryer (@JennaFryer) May 23, 2017
Matthew Metcalfe, whose credits include "McLaren" and "Beyond the Edge," is the Dixon documentary's producer. Metcalfe stressed that the documentary will reach into the emotional aspects of the sport that make racing what it is.
"That's what this film is going to be about," Metcalfe said. "The will to win, the drive to win, about guts, determination and just sheer hard work."
"McLaren" made its U.S. premiere in a special screening for motorsports VIPs last night at the Indiana State Museum in Indianapolis
The film recounts the New Zealander's life from humble beginnings at his father's auto shop in Auckland, to revolutionizing Formula One racing. McLaren became the youngest driver to win an F1 race. He died at 32 in a racing accident. The documentary is an unprecedented window into the life of a true genius. It features interviews from his closest friends and family members.
The film's rollout continues with the premiere at Cinetopia Film Festival on June 2.
What an intense day. Massive thank you to the whole team #indy500 #indy #CantStop #Oakley #Honda #nttdata #nttdataracing #ims #indycar pic.twitter.com/tguuvjDjkA

— Scott Dixon (@scottdixon9) May 22, 2017