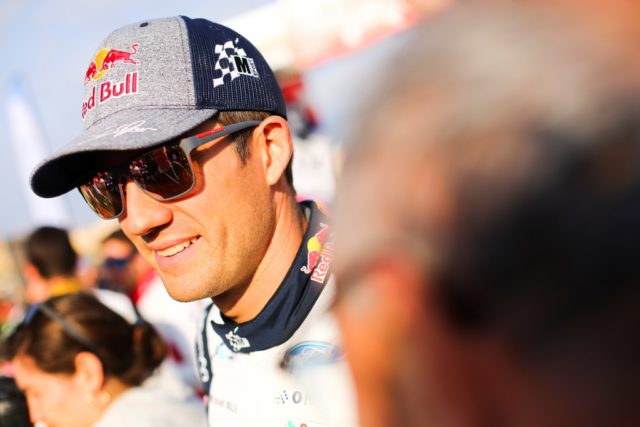 Believe it or not, Sébastien Ogier and Julien Ingrassia are yet to taste the winners' champagne at Rally Argentina. They have seven previous participations with four podiums and three runners' up places.
Keen to add an Argentinian victory to their impressive résumé, the French pairing will be hoping to battle for the win at the end of this week.
"Rally Argentina is the only event that Julien and I have not yet won and, every year, we go there with the ambition of securing victory for the first time. That has not changed this year. We want to win, but it won't be easy", Ogier said.
"We'll be opening the road through on the first day which brings its own challenges, and then there are the stages themselves. The surface is unlike anything we have visited so far this year. It's gravel, but it's a completely different type of gravel to what we experienced in Mexico."
"In Argentina, the roads are much softer and sandier but also quite rough in places. That means that challenging for the win is always going to be a compromise between speed and endurance."
"I had two days of development testing in Portugal and everything is moving in the right direction, so we'll be hoping for another strong result next week."
Last training done before heading to @rallyargentina 🇦🇷💪@redbullmotors @MSportLtd pic.twitter.com/w8Td4yMjxJ

— Sébastien Ogier (@SebOgier) 23 April 2017
There are more crews that will compete with M-Sport in Argentina
This rally holds special memories for Elfyn Evans and Daniel Barritt – playing host to their maiden FIA World Rally Championship podium in 2015.
Known for his mechanical sympathy, Evans has historically excelled through the rough gravel stages and will be looking for a strong haul of points as the season returns to gravel.
"We've got some special memories from Rally Argentina, and we're looking forward to getting back on the loose stuff. We've not had the best of luck so far this season, but hopefully that'll change when we get back behind the wheel next week", Elfyn Evans said.
"It's an event that I've always enjoyed, but you have to take a fairly measured approach. Each day is really different in terms of character, but there is always very little margin for error with something to catch you out around practically every corner. You have to have a clean rally for the majority and keep mistakes to a minimum.
"That said, it is definitely a real highlight on the calendar. The fans are phenomenal – some camping out on El Condor days before the action begins. There's a real passion for motorsport in Argentina and it's always special to compete here."
Elsewhere in the service park, a further two Ford Fiesta WRCs will be in action as both Mads Østberg and Lorenzo Bertelli make a welcome return to the service park. Both drivers have contested just one event so far this season.