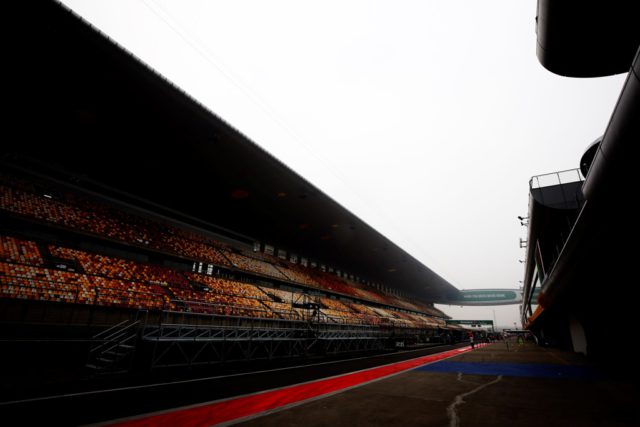 Rain and fog dramatically shortened the first free practice for the Chinese Grand Prix on the track in Shanghai. None of the drivers made more than 8 laps, six never turned round to time in the session, which practically did not take place. Race control twice stopped FP1 because of bad weather. Teams had less than half an hour for preparation. Eventually Max Verstappen (Red Bull) topped the classification, followed by Williams drivers Felipe Massa and Lance Stroll.
The weather at the start of the first free practice was very bad. The air temperature was only 13 degrees, that of the track – 15. It was raining and there was fog. The session began at the officially announced time, but was stopped after six minutes as the medical helicopter could not take off. Race control reported that it would not be restarted for at least half an hour.
Almost half the drivers managed to make a lap before the red flag. After that the session turned rather to an opportunity for televisions to do a lot of interviews in the pitlane and even in the paddock.
Almost 50 minutes after the official time for the start of training she finally began. Kevin Magnussen went first out of the pitlane, shortly after which he almost spun, but was able to continue. Most drivers chose wet weather as the track was still wet in places and it was drizzling.
Rain and fog dramatically shortened the first free practice for the Chinese Grand Prix on the track in Shanghai
🚩 RED FLAG 🚩Helicopter unable to operate #ChineseGP 🇨🇳 #F1 pic.twitter.com/UyvjjCbuqP

— Formula 1 (@F1) 7 April 2017
Romain Grosjean spun in the same place as his Haas teammate. Red Bull warned Daniel Ricciardo that there was standing water at the start-finish straight. Magnussen went off again, while Max Verstappen topped the times with 1: 50.491min. Nico Hülkenberg lost control of his car and also went off, somehow escaping the barriers. His problem led to a virtual safe car.
Minutes later session was stopped again, the reason was the same – inability of the medical helicopter to operate. Six drivers, including those of Ferrari, Force India and Lewis Hamilton had no lap time. Performance anyway made little sense in these conditions, and the teams were not able to test practically anything.
Race control said the weather caused the closure of the local airport. Meanwhile, it started to rain more seriously on the track and ultimately four minutes before the official end of the session, it was announced that it would not be restarted.
#F1 – @Max33Verstappen leads in opening #ChineseGP practice pic.twitter.com/5d30TF9hxL

— FIA (@fia) 7 April 2017