A new page in the history between Robert Kubica and Renault will be written at Spa-Francorchamps. The Polish driver will get behind the wheel of a Renault Sport R.S. 01 at round five of the 2016 Renault Sport Trophy. He will team alongside Christophe Hamon in the Renault Sport Racing car with the Duqueine Engineering team.
"I quickly felt at ease at the wheel of the R.S. 01, and even on a twisty track like Ales its qualities were immediately evident, especially the stopping power granted by the carbon discs. I was impressed by how late into the corner you can brake and by the absence of body roll, even when you push to make the most of the available grip. I look forward to driving it at Spa, where all the downforce the car can generate will also come into play", Robert Kubica said.
Robert Kubica 's career is closely connected to Renault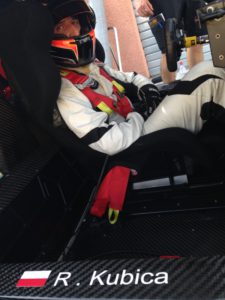 After a stellar karting career, Robert Kubica chose the Formula Renault 2000 to make his open-wheel debut. The Krakow native quickly turned heads joining the Renault Driver Development programme before going on to finish runner-up in the Italian series in 2002.
He went on to become the first champion in the Formula Renault 3.5 Series in 2005, which led to his first run in F1 with the Renault R25 during the rookie tests at the end of the season where his form led to a factory drive for 2006.
A Grand Prix winner in 2008, Robert Kubica and Renault teamed up again in rally racing in 2009. A year later he joined the Enstone team in F1. Following a promising first season, his ascension was halted abruptly by an accident.
Robert Kubica won the WRC2 Championship in 2013. After that he made his return to circuit racing in a Mercedes in the 12 Hours of Mugello. Robert has happily accepted the invitation of Renault Sport Trophy to race in Spa.
To get comfortable with the car Robert and the Duqueine Engineering team joined up this week at the Ales circuit. They made a shakedown in the South of France.